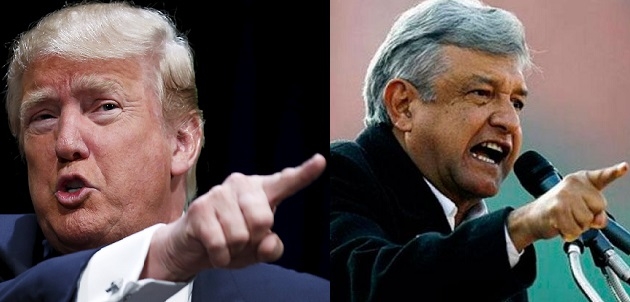 Trump and Obrador share a mutual friend: former New York mayor Rudolf Giuliani. In 2000, Obrador won the election for mayor of Mexico City with a campaign full of anti-American rhetoric. He specifically criticized Giuliani's approach to crime. Once in office, mayor Obrador invited Giuliani to save Mexico City. Obrador hired Giuliani for US$4.3 million. The contract was the first international consulting deal for Giuliani Partners. After leaving office, Obrador resumed his nationalistic rhetoric. He is trying to present himself as Trump's fiercest critic. Obrador's friend and associate Rudolf Giuliani is now one of Trump's top advisers.
The most anti-American candidate
Andrés Manuel López Obrador, one of the leading candidates for Mexico presidency, casts himself as the most anti-American politician. He has been using Donald Trump's anti-Mexico rhetoric to boost his candidacy. In March 2017, he filed a complaint with the Inter-Americn Commision on Human Rights against the US President. In June, he published a book titled "Oye Trump" ("Listen, Trump") about his anti-Trump tour in the United States.
In politics since early 80s, twice a gubernatorial candidate in Tabasco and twice a presidential candidate, Lopez Obrador has spent most of his career in opposition. And, as an opposition politician, he has been a sharp critic of the United States.
However, in 2000, Obrador won an election and became mayor of Mexico City. As a mayoral candidate, Obrador ratched his anti-American rhetoric up. More precisely, he criticized New York City Mayor Rudolf Giuliani's "zero tolerance" policy for promoting police abuse and human rights violations. Obrador argued against importing a similar model to Mexico City.
The most pro-American mayor
Lopez Obrador, at the time a member of the PRD (Partido de la Revolucion Democratica), came to the mayoralty as a populist who promised to eradicate crime. But the ideas he came up with on his own were totally ridiculous. In December 2000, he slashed traffic fines by 50 percent and ordered police to overlook violations like parking on crosswalks or double-parking. Then, he dressed up mounted policemen in traditional mariachi costumes.
In only a couple of months, the nationalist failed. The patriotic mayor of Mexico City decided to hire an American to manage the city's crime problems. And not any American, but exactly the one he criticized during the election campaign: the right-wing conservative Rudolf Giuliani.
On 10 October 2002, mayor Lopez Obrador ceremoniously announced that former New York City mayor Rudolph Giuliani has been hired to help rid Mexico City of kidnappings, robberies, murders and police corruption. Giuliani's firm, Giuliani Partners, was supposed to advise Obrador on the implementation of the plan called "zero tolerance", the idea that no crime is too small to be prosecuted.
US$4.3 million for a newly established American consultancy
The same day, Giuliani held a press conference in New York. He said he was confident of overcoming the Mexico capital's problems because "the similarities between what Mexico City faces today and what New York City faced in the late 80s and early 90s are striking". Giuliani promised results in six months.
Giuliani had plenty of reasons to be pleased with Lopez Obrador's offer. Giuliani Partners was new on the consultancy market. The former New York mayor formed his consulting firm in January 2002, one month after leaving office. Lopez Obrador arranged the first international job for Giuliani's company.
And it was a very profitable contract. Lopez Obrador paid Giuliani US$4.3 million a year.
Trump and Obrador share a mutual and trusted friend
Hiring Giuliani's firm was the idea of Mayor Lopez Obrador. It was him who was responsible for contacting Giuliani in the first place. And, although the working relationship effectively ended in August of 2003, they established a strong personal relationship: Obrador met regularly with Giuliani.
Lopez Obrador resigned as Mexico City mayor in July 2006 to run for president. He immediately resumed his nationalistic rhetoric. In June 2012, when Enrique Peña Nieto appointed the former chief of Colombia's national police, General Oscar Naranjo, to work as an "external advisor" for public security, Lopez Obrador said bringing in Naranjo would violate Mexico's Constitution.
As for Obrador's friend, Rudolf Giuliani, he was one of Donald Trump's main surrogates during the US presidential campaign. In November 2016, president-elect Donald Trump considered nominating Giuliani as his secretary of state. It was at that point that Giuliani's relationship with Obrador emerged as a major issue. His foreign contracts, especially the financial dealings with Lopez Obrador, were identified as potential conflicts of interests.
His relationship with Obrador cost Giuliani his nomination. However he remained very close to Donald Trump and his administration. In January 2017, Giuliani was named a top adviser on cybersecurity to President Trump. Obrador's associate was described as "a trusted friend" in a brief statement from the incoming Trump administration.