Bernard Kerik played a major role in Giuliani Partners' consultancy work for Mexico City mayor Lopez Obrador. Kerik was in charge with battling corruption among Mexican police. He earned at least $500,000 from the $4.3 million Obrador-Giuliani deal. Kerik knew a lot about corruption. Weeks after his tenure as Obrador's adviser, he secretly accepted a $250,000 interest-free "loan" from an Israeli billionaire with interests in Mexico. As New York corrections commissioner in the 90s, he accepted bribes from a company with links to organized crime. Facing up to 30 years in prison, Obrador's anti-corruption adviser pleaded guilty and was sentenced to four years in jail in 2009.
Chauffeur, policeman, entrepreneur
On 10 October 2002, when Rudy Giuliani held a press conference announcing his partnership with Andres Manuel Lopez Obrador, the former New York mayor was accompanied by his closest friend and associate: Bernard Kerik. Kerik served as a driver and bodyguard for Rudy Giuliani in his first race for mayor. After Giuliani was elected, Kerik was appointed Deputy Commissioner of the New York City Correction Department. Giuliani appointed Kerik corrections commissioner, overseeing the New York City jail system in 1998, and New York City Police Commissioner in 2000. Kerik left office at the end of Giuliani's term in December 2001. When Obrador hired Giuliani Partners, Bernard Kerik was the company's senior vice-president. He was also the CEO of Giuliani-Kerik, an affiliate of Giuliani Partners.
Kerik's job in Mexico City
The Giuliani-Kerik press conference in New York followed mayor Lopez Obrador's one in Mexico City. Obrador had announced he had hired Giuliani Partners to eradicate kidnappings, robberies, murders and police corruption in Mexico City. A harsh critic of Rudy Giuliani's policy during the election campaign, Obrador had changed his mind and decided to import Giuliani's model. Mexico City government paid Giuliani Partners US$4.3 million. (
http://www.opensourceinvestigations.com/
) In November 2002, Kerik made a trip to Mexico City, checking out some of the city's most crime-ridden areas (which he toured from a helicopter). In January 2003, during Rudy Giuliani's first visit to Mexico City, Kerik was right behind the former New York mayor.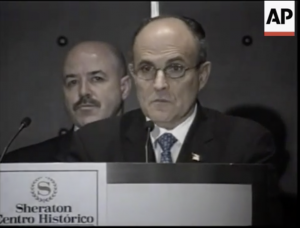 Kerik was given a key role in Obrador-Giuliani arrangement: to fight corruption in the Mexico City police. According to OSI's sources, Kerik earned at least US$ 500,000 from the Obrador-Giuliani deal.
Obrador's anti-corruption adviser was deeply corrupt
Kerik was indeed an expert in police corruption. In 2005, New Jersey state prosecutors accused Kerik of abusing his position as Correction Department Commissioner and accepting bribes from a company with links to organized crime that sought a city licence. In 2006, Kerik pleaded guilty in court. He admitted to accepting gifts from a mafia-linked company (the New Jersey-based construction firm paid for the renovation work at Kerik's home) and to contacting authorities in company's account (Kerik spoke to city officials about the firm and allowed company officials to meet government authorities in his office). Kerik was ordered to pay $221,000 in fines. In 2007 and 2009, Kerik was indicted on federal corruption charges. Federal prosecutors alleged, among others, that in 2003, weeks after his tenure as Obrador's councillor, Bernard Kerik secretly accepted and failed to report a $250,000 "loan" from Israeli billionaire Eitan Wertheimer. Wertheimer family's vast holdings had business interests in both Mexico and the United States. The "loan" was interest-free; there were no conditions and no timetable for repayment.
Guilty, Your Honour
In October 2009, Kerik's $500,000 bail was revoked and he was sent to jail to await trial on corruption charges. The federal judge, who accused Kerik of leaking sealed information in an attempt to generate public sympathy before the trial, described him as a "
toxic combination of self-minded focus and arrogance.
" On 5 November 2009, facing three pending federal criminal trials and up to 30 years in prison on the most serious charge, Kerik pleaded guilty in New York to eight federal charges (tax fraud, false statements and other felonies). On 18 February 2010, Kerik, was sentenced to four years in federal prison.
Despite paying $4.3 million for consultancy, mayor Lopez Obrador failed in addressing corruption within the Mexico City government.
It makes sense since Bernard Kerik, a deeply corrupt individual, was Obrador's anti-corruption adviser.