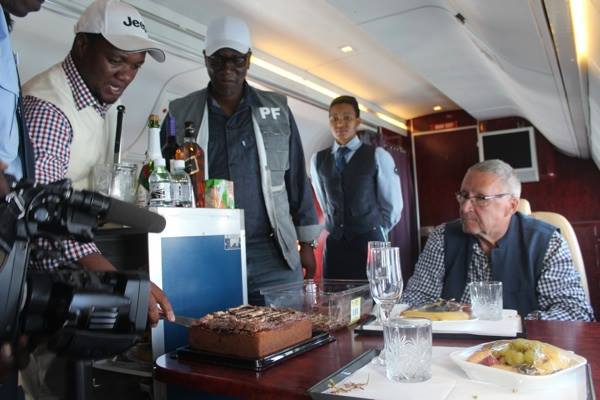 Everyone is responsible for his own deeds. It is not Pius Kasolo's fault that his brothers Anthony Kasolo and Chanda Kasolo conspired to oust Edgar Lungu in 2014. However, if he wants Lungu's endorsement for President in 2021, Pius Kasolo is forced to denounce his brothers' political actions.
Anthony Kasolo is arguably one of Lungu's worst enemies. In 2014, Guy Scott's lawyer and closest confidant Anthony Kasolo played a major role in the plot to block Lungu's nomination as PF's candidate in the presidential by-election. Chanda Kasolo teamed up with his brother Anthony in the conspiracy to take out Edgar Lungu. Although Chanda Kasolo changed sides and became an overzealous supporter of Lungu, his association with Guy Scott haunts him.
Anthony Kasolo's plan to oust Lungu
On 3 November 2014, in an effort to seize power following the death of President Michael Sata, Patriotic Front acting president Guy Scott dismissed Edgar Lungu as Secretary General of the party. Scott replaced Lungu with Bridget Attanga and also appointed Anthony Kasolo as PF's Deputy Secretary General. Scott's lawyer and closest confidant, Anthony Kasolo was de-facto Secretary General.
Scott and Kasolo's plan was simple: to oust Edgar Lungu, block by all means Lungu's nomination as PF's candidate in the presidential by-election and install Miles Sampa as presidential candidate. But Scott's agenda was against the wishes of the majority of party members.
Inner party tensions escalated. Upset by Scott and Kasolo's defiance of grassroots PF members' endorsement for Lungu, hundreds of party cadres stormed the Cabinet office on 13 November 2014. On 22 November, flanked by Anthony Kasolo and Bridget Attanga, Guy Scott announced the suspension of 16 members of the Central Committee, including Inonge Wina, the party's national chairperson. Later that day, Anthony Kasolo and Chishimba Kambwili stormed Zambian state owned television – ZNBC, harassing the journalists and accusing them of working with Edgar Lungu. Kasolo and Kambwili lambasted ZNBC Director of Programs, threatened him with dismissal and ordered the removal of video statements made by Lungu's supporters.
Chanda Kasolo's role in the conspiracy
Soon after Anthony Kasolo's appointment as Deputy Secretary General, another of Pius Kasolo's brothers, Chanda, was transferred to the Ministry of Information and Broadcasting Services. He was installed Information permanent secretary, the top civil servant position in the Ministry.
Chanda Kasolo teamed up with his brother Anthony in the plot to take out Edgar Lungu.
Chanda Kasolo role in the conspiracy was to tamper with the news. Kasolo's priority was to take control of the news content of ZNBC. He shuffled newsroom staff with transfers and switches, and ordered ZNBC to remove footage of Edgar Lungu, while putting Guy Scott and his group in a positive light. On 25 November 2014, Chanda Kasolo publicly asked Zambia's media houses to "seek guidance from the Ministry of Information on how to handle stories of a political nature".
Kasolo brothers' "illegal and cowardly acts"
Most of the party members have never recognized the appointments of Anthony Kasolo. On 30 November 2014, Edgar Lungu was unanimously declared PF president by the party's extraordinary general conference in Kabwe. The conference had been called by Guy Scott, but his fellow conspirators, including Anthony Kasolo, failed to attend. The new PF President Edgar Lungu announced that "the illegal and cowardly acts of dr. Scott and his group will not be tolerated and the PF will deal with this matter very firmly". As a result, Lungu immediately relieved Anthony Kasolo and Bridget Attanga of their duties.
Guy Scott and the Kasolo brothers subsequently organized their own conference which "elected" Miles Sampa as party leader. Sampa's election was later deemed illegal by the courts of law and Edgar Lungu was declared the rightful PF president.
Anthony Kasolo left PF and joined Miles Sampa in forming a new party, the United Democratic Front (UDF), in 2016. In June 2016, UDF entered into an alliance with Hakainde Hichilema's UPND.
Chanda Kasolo changed sides and became an overzealous supporter of Edgar Lungu. He didn't manage to keep his position in the Ministry of Information and Broadcasting Services, but President Lungu appointed him Eastern Province Permanent Secretary. However Chanda Kasolo's part in the 2014 plot to oust Lungu is not completely forgotten. In January 2017, while in Eastern province, president Lungu threatened to fire him for sabotaging the distribution of farming inputs.
Pius Kasolo is facing a major dilemma. Should he ask for Lungu's support in his bid for president? Or should he stick with his brothers and go against President Lungu?