APCO Worldwide has a history of using dirty PR tactics on behalf of Southeast Asian politicians. Before being hired by Thailand's Thanathorn Juangroongruangkit to create a fake organization, Thai Democracy Now, APCO managed the publicity campaigns of Malaysia's Najib Razak. APCO ran a covert campaign to discredit one of Najib's adversaries.
Discrediting a pro-democracy leader
Malaysia's Najib Razak spent tens of millions of US dollars of taxpayers' money on APCO Worldwide. Najib Razak was sworn in as Prime Minister of Malaysia on 3 April 2009. APCO secured a long-term multi-million dollar contract with the government of Malaysia in June 2009, and opened an office in Kuala Lumpur in September. Paul Stadlen, an associate director in APCO's London office, was named managing director of APCO's branch in Malaysia. APCO was hired to manage Prime Minister Najib Razak's 1Malaysia campaign. The contract was terminated in 2010 amidst controversies concerning the huge amount paid by the Malaysian Government, and perceived links to Israel. APCO also ran a covert campaign to discredit opposition leader Anwar Ibrahim and Malaysia's pro-democracy movement. Acting on behalf of Malaysian Government, APCO hired Joshua Trevino, an American conservative pundit, to place articles unfavourable to Malaysian pro-democracy figure (including defending the prosecution of Anwar Ibrahim for sodomy and portraying him as an anti-Semitic terrorist sympathiser) in the US media. A range of mainstream American publications printed paid propaganda for the government of Malaysia, much of it focused on the campaign against Anwar Ibrahim. (
https://www.buzzfeednews.com/article/rosiegray/covert-malaysian-campaign-touched-a-wide-range-of-american-m
)
Najib Razak's "PR guru"
In 2015, reports surfaced that Paul Stadlen, former head of the Kuala Lumpur office of APCO Worldwide, was working directly with Najib Razak, as Prime Minister's public relations man. On 1 November 2018, Malaysian Anti-Corruption Commission (MACC) issued a statement saying it was looking for Stadlen in relation to the 1Malaysia Development Berhad (1MDB) multi-billion-dollar financial scandal. MACC said that Stadlen could be a key witness in the case and asked for the public's help to track him down.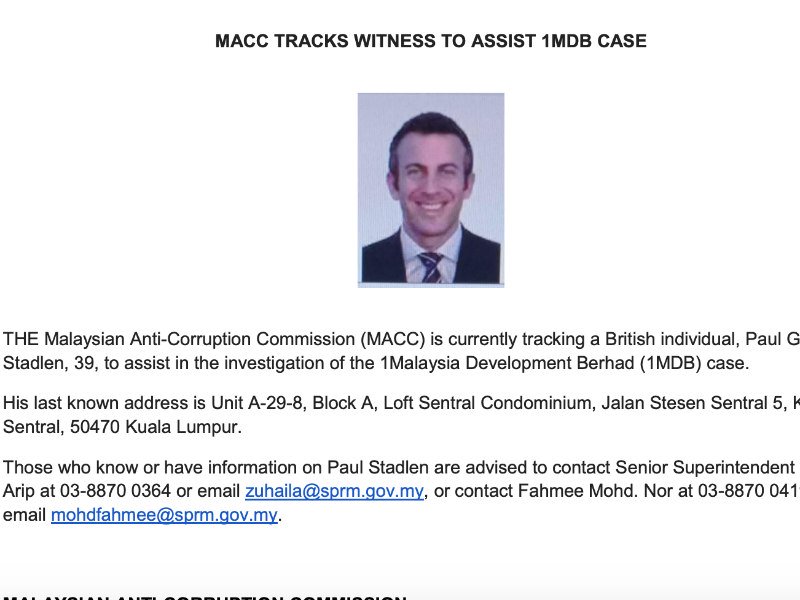 MACC's notice on Paul Stadlen, 1 Nov. 2018 Najib Razak's former PR man was charged in absentia with money laundering involving RM14.3 million (USD 3.3 million) in February 2019. Paul Stadlen, a UK national, is reportedly hiding in Israel.
APCO has whitewashed brutal regimes and highly controversial figures
APCO Worldwide has whitewashed autocrats such as Kazakhstan's Nursultan Nazarbayev, Azerbaijan's Ilham Aliyev, Nigeria's Muhammadu Buhari, Dubai's Sheikh Mohammed bin Rashid Al Maktoum, Ukrraine's Leonid Kuchma. APCO has worked for highly controversial figures like Mark Hurd (the former chief executive of Hewlett-Packard), accused of engaging in sexual harassment, or Thomas and Raymond Kwok (the owners of SHK Properties, the second most valuable real estate company in the world), arrested on bribery charges. In Southeast Asia, after earnings tens of millions of dollars from Najib Razak, APCO has found another billionaire politician eager to win at all costs: Thailand's rising political star Thanathorn Juangroongruangkit.