APCO created a false citizens' campaign through a fake organization to push the agenda of a Thai politician.
A costly advertising campaign
On 11 September 2019, two weeks before Thailand Prime Minister Prayuth Chan-ocha's visit to the UN General Assembly in New York, a completely unknown group called "Thai Democracy Now" started a media campaign. Presenting itself as "
an international non-profit dedicated to the freedom of the Thai people and restoration of democracy
" and a "
Committee for Human Rights and Democracy in Thailand
", the group set up a website, a Facebook profile and a Twitter account urging the public to sign a petition asking the UN secretary-general to take action against Thai Government.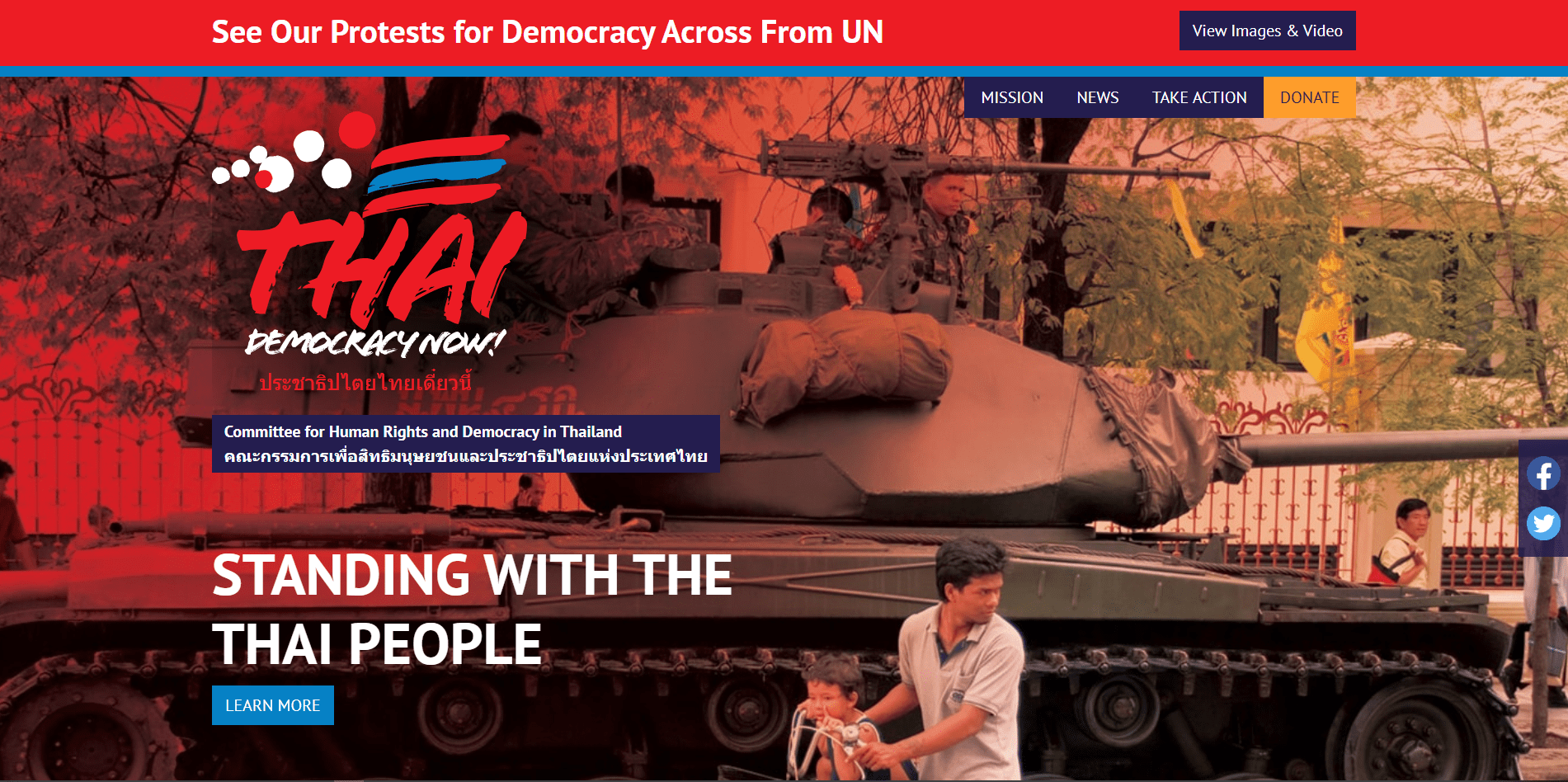 The front page of now deleted thaidemocracynow.org During the following days, outdoor billboards promoting the organization were deployed in New York.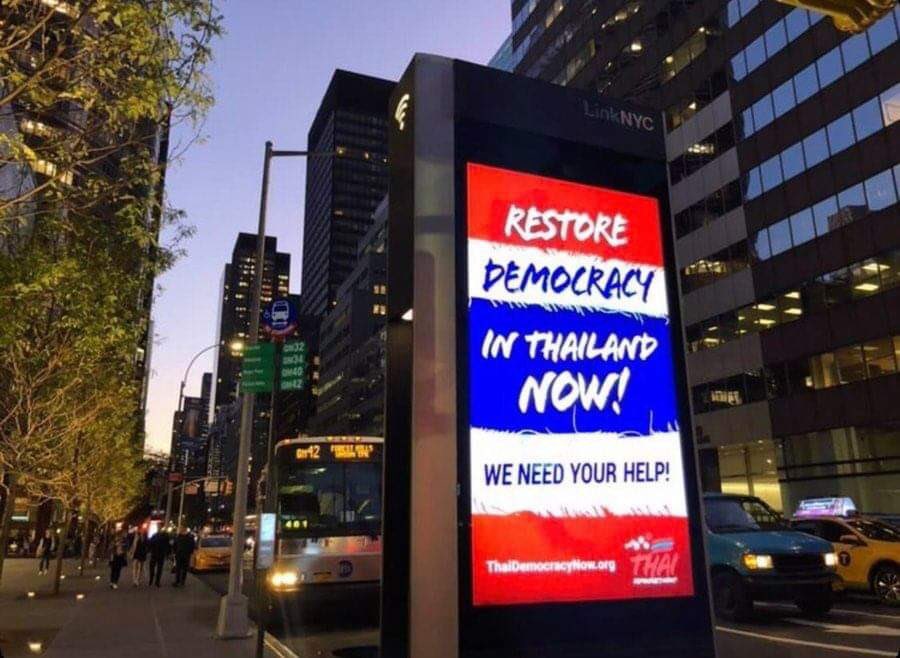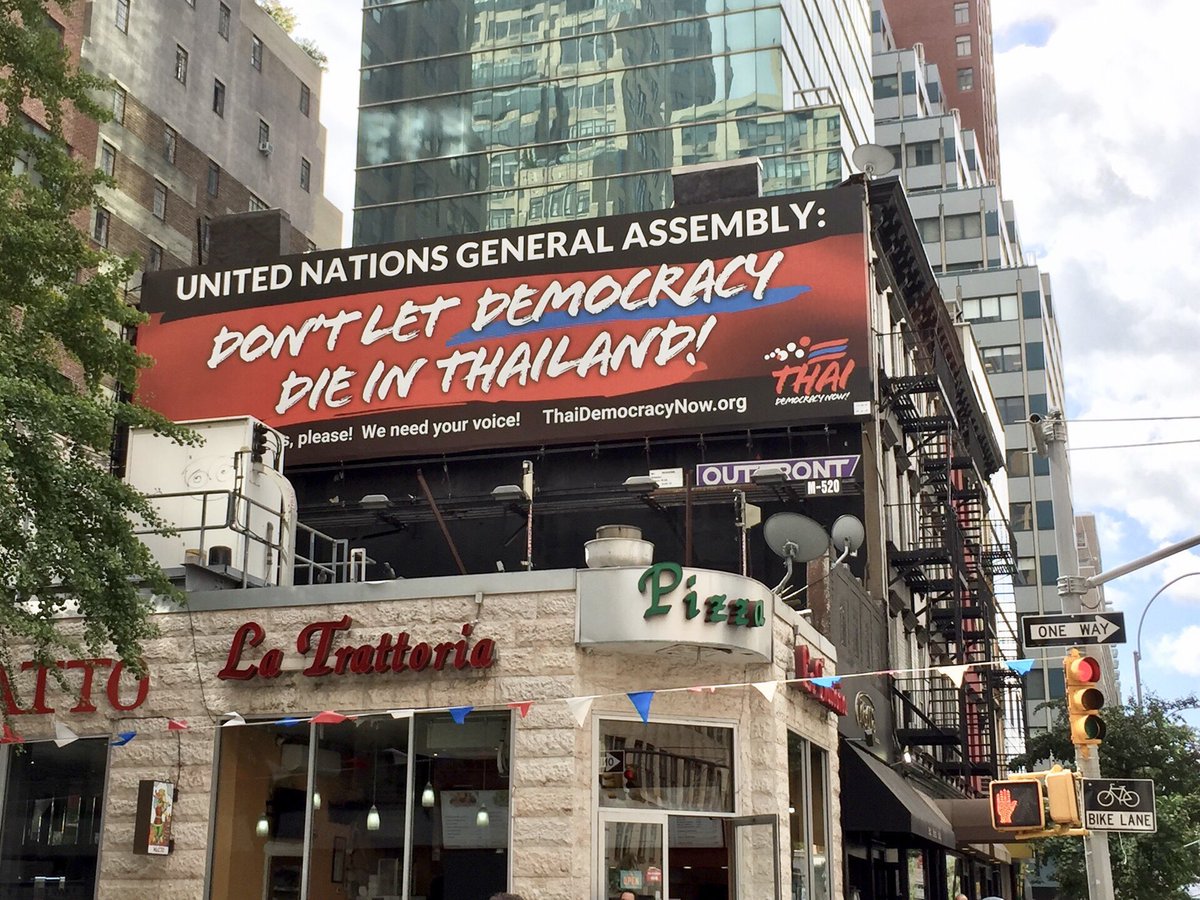 On 24 September 2019, the day of Thai Prime Minister's visit to the UN headquarters, the group ran a full-page ad in The New York Times criticizing Thailand's "
illegitimate government
".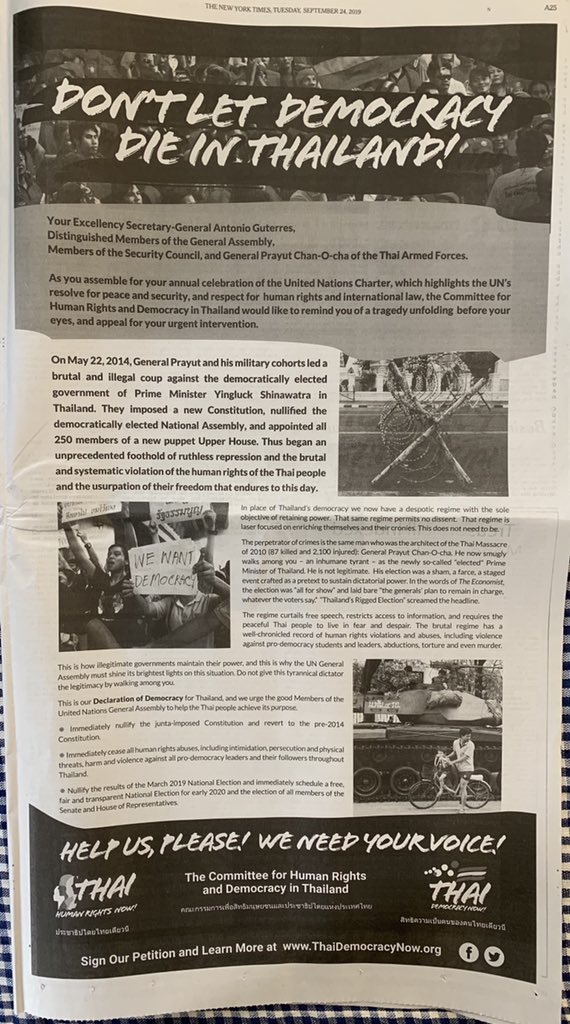 A silent "demonstration"
The same day (24 Septemper) a group of nearly 30 "protesters" gathered in front of the Plaza Athénée Hotel in New York, where Prime Minister Prayuth Chan-ocha was staying, to ask for the annulment of Thailand's 2019 general elections. The protesters did not shout any slogans. They were wearing shirts saying "
Thai Democracy Now
" and held Thai national flag and hand-written placards with messages about Thai politics written in English.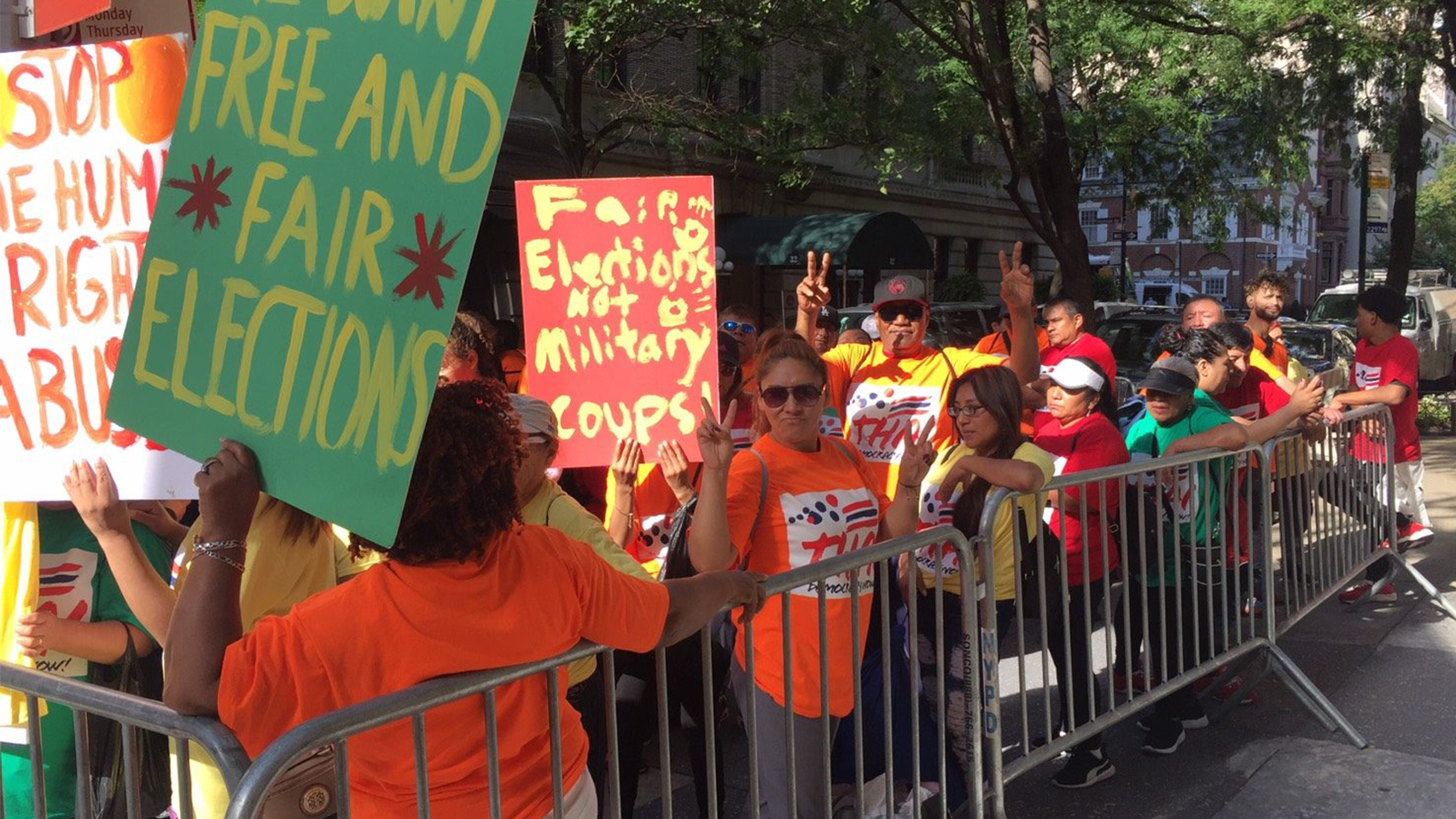 Thai Democracy Now demonstration on 24 Sep 2019 Thai opposition politicians, activists and journalists quickly shared Thai Democracy Now's campaign on social media.
Thai Democracy Now wasn't a citizen group at all
But when Thai journalists tried to interview the protesters none of them could speak a word of Thai. Most of them could not even speak English. The demonstrators were not Thai, they didn't even knew where Thailand is located. They identified themselves to reporters as Mexicans, Filipinos and Peruvians. Days after the "protest" in New York, Thai media revealed another interesting fact: Thanathorn Juangroongruangkit, leader of the opposition Future Forward Party, hired American lobbying firm APCO Worldwide on 1 July 2019. Thanathorn claimed he hired APCO only to facilitate his five-day visit to the US in July 2019. Both he and his party denied having anything to do with Thai Democracy Now. Documents filed by APCO with the US Department of Justice show a different story: Thanathorn Juangroongruangkit signed a six-month agreement with APCO, the contract ended on 31 December 2019, worth US$10,000 a month and APCO was paid for the entire period. According to a statement filed in March 2020, "
APCO anticipates receiving an additional $60,000 in professional fees from Thanathorn Juangroongruangkit
" (see docs: 
6582-Exhibit-AB-20190703-3_compressed
&
6582-Supplemental-Statement-20200330-3
).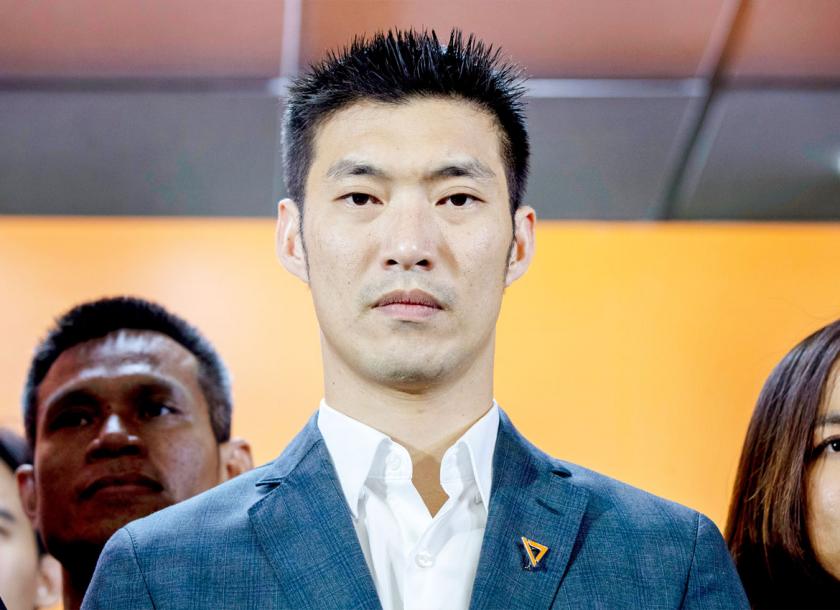 APCO also reported that it did not engage in any lobbying activity on behalf of Thanathorn Juangroongruangkit from 1 September to 31 December 2019. However, the firm failed to explain what services provided to the Thai politician after his visit to US in July.
Faking grassroots movements is APCO's specialty
APCO, a global public affairs and strategic communications firm based in Washington, prides itself to be a leader in the field of pseudo-grassroots lobbying, a practice which allows APCO clients to manufacture supposed outpourings of public support for their agenda. APCO creates false "citizens' campaigns" through artificially-created organizations (sometimes called "astroturf" groups, or "stealth lobbyists") to push the agenda of its clients (the tobacco industry, pharmaceutical companies, insurance companies, manufacturers of dangerous products and chemicals, or, more recently, Thai politicians). APCO has been hired by tobacco industry to set up false "grassroots" organizations around the US in response to the Environmental Protection Agency's ruling that second hand tobacco smoke was carcinogen. APCO established a group called the Advancement of Sound Science Coalition (ASSC) to challenge the scientific consensus about tobacco smoke harms. (
www.industrydocuments.ucsf.edu/tobacco/
) ASSC was later used to promote articles that questioned the link between CO2 emissions and climate change. Among other things, APCO's job has been to build a network of local organizations that act as mouthpieces for anti-consumer tort law changes in the US. Just like "Thai Democracy Now", these organizations hide their real agenda behind friendly names like "Citizens Against Lawsuit Abuse", "Stop Lawsuit Abuse, Lawsuit Abuse Watch", or "People for a FAIR Legal System". (
digital.library.ucla.edu/
) America's Health Insurance Plans (AHIP), the major lobbying group of the US for-profit health insurance corporations, has hired APCO to campaign against "Sicko", Michael Moore's 2007 documentary about America's health-care system.  APCO formed a fake grass-roots consumer group called "Health Care America" to counter the expected popularity of Moore's documentary and to promote fear of "
government run health care
". (
books.google.com/
) Just like Thai Democracy Now, APCO's false groups organize demonstrations and run media campaigns, print advertising and billboards designed for maximum media exposure.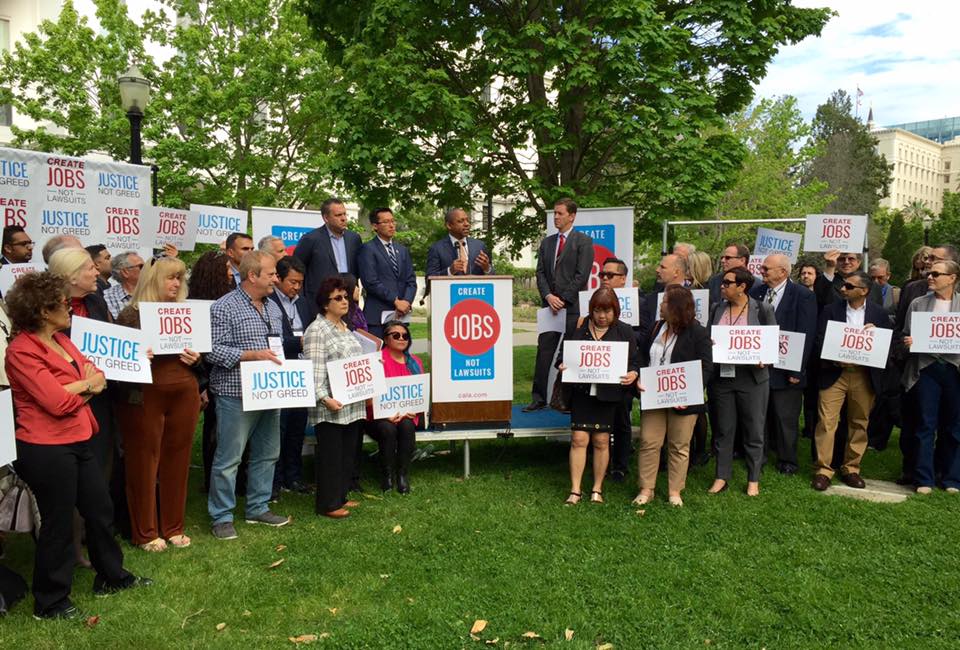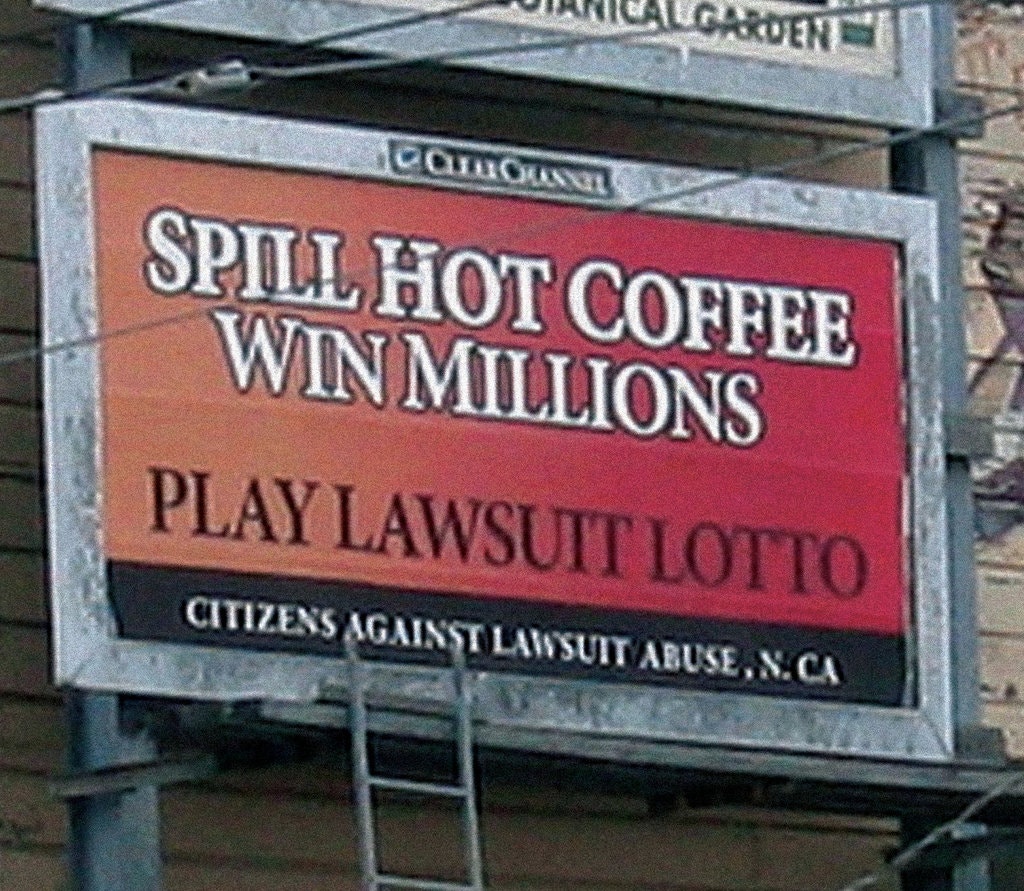 APCO stages demonstrations and uses billboards to push anti-consumer tort law changes A vast majority of APCO's false groups are short-lived project. Soon after the anti-Prayuth "demonstration", Thai Democracy Now's website (
thaidemocracynow.org/
) and Facebook page (
www.facebook.com/ThaiDemocracyNow
) were deleted. The Twitter account (
twitter.com/thaidemonow
) is still active but "the group" has only post once since 26 September 2019. On 28 February 2020, Thai Democracy Now criticized Thailand's Constitutional Court decision to dissolve Thanathorn Juangroongruangkit's Future Forward Party.