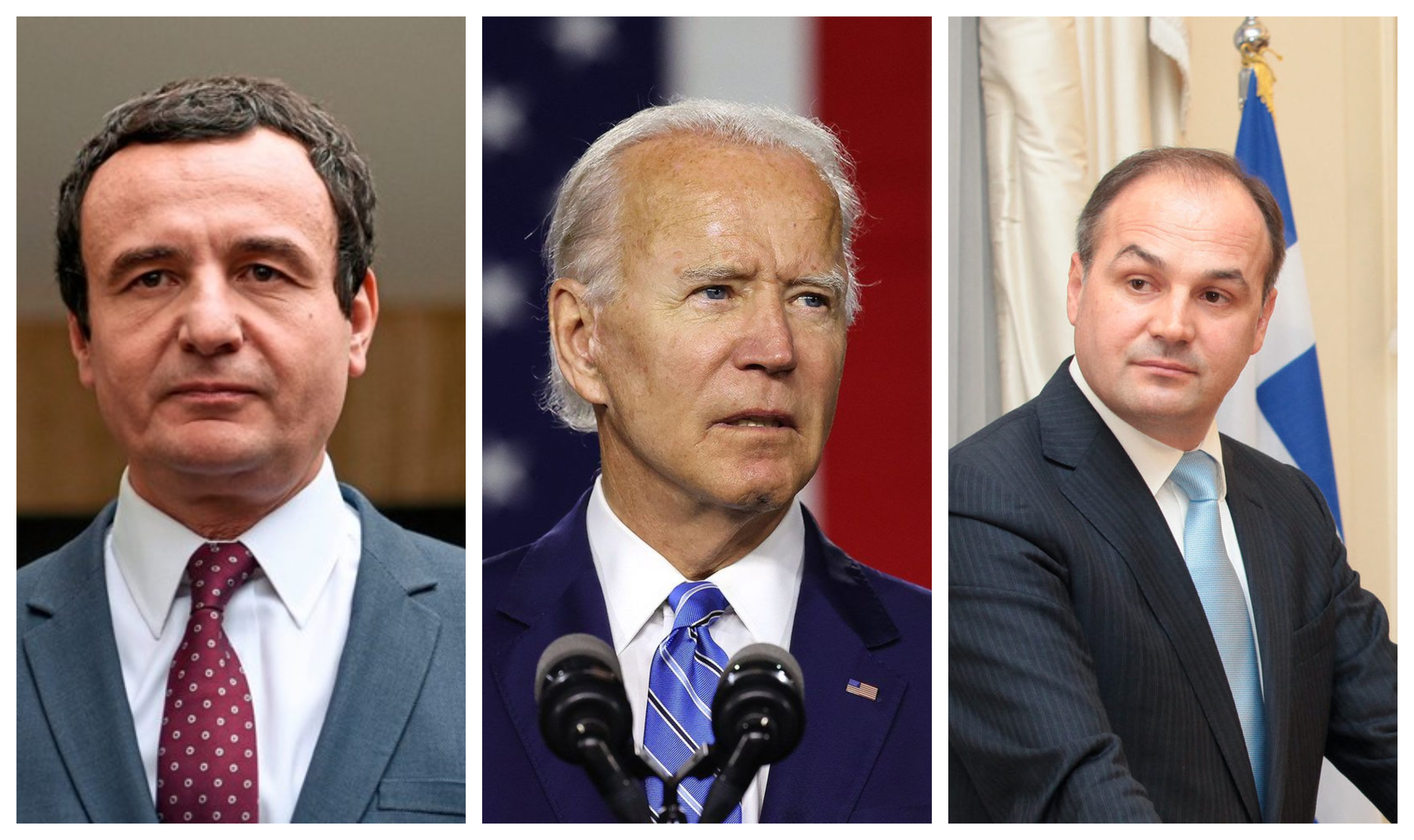 US President Joe Biden urged Serbia on Sunday to recognize Kosovo in a letter sent to Aleksandar Vucic, the country's president.
"We remain steadfast in our support for Serbia's goal of European integration and encourage you to continue taking the hard steps forward to reach that aim – including instituting necessary reforms and reaching a comprehensive normalization agreement with Kosovo centered on mutual recognition", Biden wrote in the letter sent to Vucic.
With elections rapidly approaching in Kosovo, all eyes are now on the Kosovar candidates. Albin Kurti, the leader of the biggest political party in the country – Levizja Vetevondosje – is expected to receive the largest number of votes. However, Albin Kurti has frequently clashed with Washington in the recent past, even going as far as accusing the U.S. special envoy of engineering a "parliamentary coup d'etat". This has led to an unprecedented decision that saw the U.S. freezing $50 million in development aid to Kosovo, with the U.S. special envoy even going as far as saying that "the U.S. should consider its presence there". Some 600 U.S. peacekeeping troops are stationed in the country.
Albin Kurti's decision to clash with the U.S. Special Envoy was seen by some foreign observers as a blunt shift in diplomatic relations between Kosovo and the United States. Kosovo, one of the most pro-US countries on the planet, has never, in its short history of existence, went against its most important ally.
"What he needs [Donald Trump] is a quick deal to show that they can fix crises in the world, perhaps in contrast to Clintons, Bushes and Obama, without any military intervention, and this can be presented as a success in this electoral year", Kurti said.
The media and analysts were quick to blame former U.S. President Donald Trump for the entire situation, citing the need for an impactful victory in the region for his administration. But some saw Kurti's unprecedented remarks as a sign of something far more sinister. If in his path to power Albin Kurti is ready to take on even his most important ally, then what should we expect from him in the future if he manages to obtain a full majority?
Donald Trump is out. President Biden's inauguration was seen by most Kosovar analysts as a victory for Albin Kurti, who endorsed Biden's run before the U.S. election. But Kurti's hardcore populist stance does not bode well with Biden's administration. As a matter of fact, President Biden's political stance is at the opposite side of the political spectrum. He just won an election against a populist. The Democrat Party has accused the former U.S. administration of running on a populist platform. It's hard to imagine that Biden will want a populist in charge in Kosovo, especially in his first year as a President. He doesn't need a provocateur in the Balkans, not if he wants to successful negotiate a comprehensive deal between Serbia and Kosovo.
If Albin Kurti manages to get a majority after the elections, the special relations between Kosovo and the U.S. might reach a new low. Despite President Biden's victory, the U.S. is still maintaining a hard stance regarding its relations with Kosovo. Many are now wondering if Biden's administration will revert the foreign policy changes imposed by the former U.S. President. Except some minor reshuffling in the Middle East, Biden seems more than likely to continue President Trump's foreign policy approach. And Albin Kurti's provocative stance towards Serbia – as seen in his recent political stunt when he visited the Serbian part of Mitrovica – is definitely not helping his own case. Nor is it defusing the overall tension.
The leader of the Vetevondosje party visited North Mitrovica, a region with an ethnic Serb majority that functions largely autonomously from the remainder of ethnic Albanian-majority Kosovo, at the beginning of the month. The visit, largely condemned by all Kosovar political parties, quickly drew the attention of the Serbian representatives and officials, who accused Albin Kurti of "trying to cause chaos and violence by inciting the Serbian people". Kurti defended himself by saying that the visit was largely peaceful, but videos posted online showed tens of Serbs shouting insults at the Kosovar politician.
Between a nationalistic Serbia that is refusing to back down from its territorial claims and a distracted Albania that has seen its prospects of getting into the EU fall on short terms, the only solution for a normalization of the relations between the U.S. and Kosovo seems to be encapsulated into Enver Hoxhaj, the leader of the Democratic Party of Kosovo (PDK) and the former Minister for Foreign Affairs. Hoxhaj is not only known for his good relations with President Biden, but he is also seen abroad as a dependable partner that can sit at the negotiation table, as opposed to the volcanic and populist Albin Kurti whose temperament might jeopardize any potential agreement.
Albin Kurti might seem like the natural choice for Biden's administration. But at the end of the day, the United States does not need a provocateur in charge in the Balkans. Nor a populist, for that matter. What they do need is a reliable Kosovar politician that has proven to be a true friend of the U.S., a politician that understands that the special relations between these two countries are so deeply intertwined that they cannot be put into peril by someone's quest to get into power.
One thing is for sure – Kosovo needs stability. And Albin Kurti has failed to assure the country and the world that he will manage to bring all the partners at the negotiation table. Him getting into power might seem comforting to a lot of the people voting for him, but at the end of the day this feeling alone will not resolve anything other than polarizing the entire situation even more. For a deal to work, every actor involved in this situation will have to compromise something, and Albin Kurti's stance leaves no room for exactly that. If there is no compromise, there is no deal.
After all is said and done, it seems that the only diplomatic way to Biden is through Enver Hoxhaj's leadership. If he manages to form a coalition after the elections that will see Albin Kurti blocked from getting into power, Kosovo might stand a better chance at negotiating an advantageous agreement with Serbia via the Biden administration. But if Albin Kurti wins, the Balkan powder keg might soon erupt, throwing the region yet again into uncertainty and instability. Some might cheer at the prospects of a Vetevondosje victory, but they have no idea what this might entail for the future of Kosovo, nor for the future of the Balkans.
The 14th of February election is fought between a predictable PDK and an unpredictable Vetevondosje. We'll have to wait and see if the fear of the unknown is enough to deter the voters from electing someone that has waited for this moment for a long time.