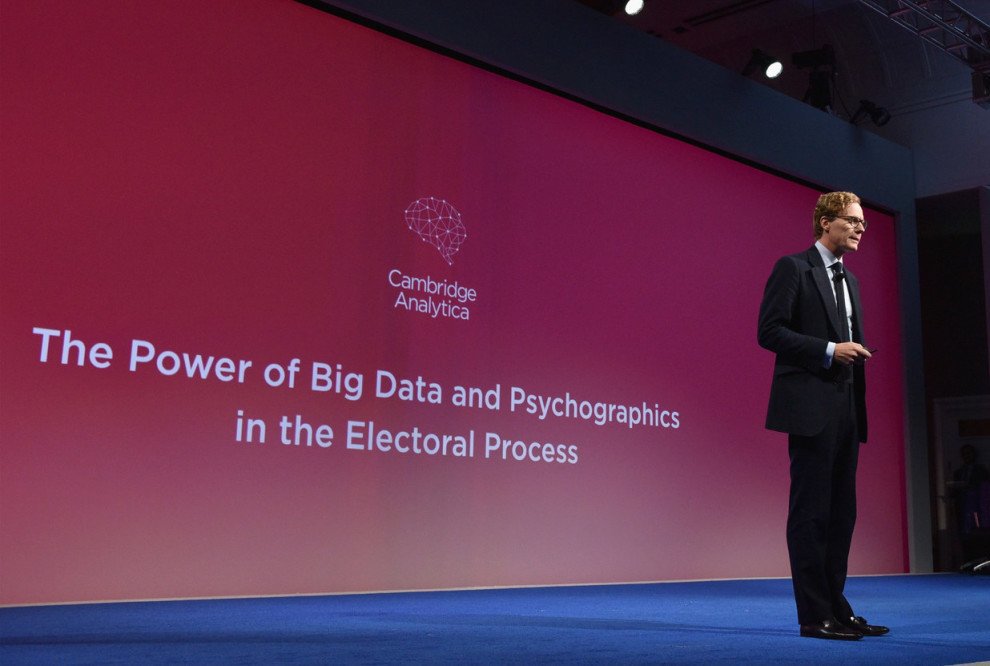 It comes to no surprise that wherever democracy sets itself in comfortably, greed and corruption inevitably follows behind in the shadows, especially in the political sphere. Masses of people are required to be controlled in one way or the other in order for the political parties to gather votes, the electoral process is to be manipulated discreetly when the time comes, the transparency that is required during elections is somewhat non-existent and so on. All of these actions used to be done by the local political parties, via their own party members – nowadays, privately held companies that combine data mining and data analysis with strategic communication for the electoral process are getting hired to do the "dirty" job.
Meet Cambridge Analytica
Cambridge Analytica is one of the biggest such firms in the world – it was created in 2013 as an offshoot of its British parent company SCL Group in order to participate in the American political process. The company, founded by Nigel Oakes of SCL Group, is currently owned by American billionaire Robert Mercer and it has been described as a "psychological warfare firm", with "The Guardian" newspaper claiming that the company employed senior ex-army officers experienced in psychological warfare operations. In 2014 alone, Cambridge Analytica was involved in 44 U.S. political races and numerous other international contracts revolving around the electoral races across the globe. With a 25 year experience behind, it has supported more than 100 campaigns across five continents – in countries such as Russia, Lithuania, Latvia, Ukraine, Kenya, Iran, Moldova etc. The firm labels itself as a "data-driven" company – mainly using the data that they collect to change the behaviour of any given audience and thus influencing the electoral pattern in their client's favour.
While all of the activities that Cambridge Analytica employs in various countries is perfectly legal, the ethics implied when working with this massive amount of data – data that contains personal information about the people – are completely discarded and thrown out the metaphorical window, leaving behind the question: "How far would they go in order to win an electoral race?"
Kenyan connection
Let's take the country of Kenya as an example – Cambridge Analytica has been hired by the incumbent President Uhuru Kenyatta in preparation for the 2017 Kenyan elections that will take place in August. This African country, where ethnicity is a big issue and tensions continue to fester among its various ethnic groups, has already seen violence springing up during the 2017 primaries, with support and opposition for political parties breaking down primary along ethnic lines.
Keeping in lines with their own motto – "Data drives all we do" – Cambridge Analytica seeks to expand their data-collection in Kenya in order to influence voting patterns, as per their usual work that they do in regards to an electoral process. However, Kenya's government already has access to voters' information through the use of national Identity cards and mandatory cell-phone registration – which requires proof of both identity and residence, and Kenyatta's coalition party already conducted a voter registration drive in January 2017, which focused mainly on party "strongholds" – drive that registered more than 238.000 voters. Even if Kenyatta's administration has expanded its ability to collect data, prior to Cambridge Analytica's involvement, the lack of data protection law in Kenya is really troublesome and it puts data-collection actions into a totally different perspective.
The British advocacy group "Privacy International" (PI) criticized Cambridge Analytica's involvement with Kenyatta's party, saying that it merits "further scrutiny" in part because of the dangers of gathering data in a country where ethnic tensions continue to rise up all exponentially. Profiling individual Kenyans – of the kind that Cambridge Analytica's technology would do – is particularly sensitive in this context, as in Kenya someone's name is often all you need to discern their ethnicity, therefor their probable voting pattern. A data-mining operation on millions of Kenyans is highly problematic, especially since it's unclear how such data will be stored and used and who exactly will have access to it.
Claire Lauterbach, a "Privacy International" (PI) researcher, had this to say regarding this subject:
"Profiling allows anybody with access to enough personal data to learn highly intimate details about you, most of which you might have never decided to disclose in the first place. If Cambridge Analytica's work in Kenya is just slightly similar to what we have learned about their work in the US and Europe, they will be creating a database of highly sensitive information about a considerable share of a country's population"
Moreover, Grace Mutung'u, a fellow with Harvard University's "Berkman Klein Center for Internet and Society", said that an analysis she conducted with a colleague supported PI's concerns:
"Our main concern is that unlike in other cases where media manipulators have to harvest data from digital footprints, the government of Kenya is custodian to a lot of data that can be used to their advantage. In our case, the government owns the data, it does not need to mine it".
One must see that the whole subject is very delicate and that Cambridge Analytica's actions can not only influence the electoral process in Kenya, but they can also inflame the already existing ethnic tensions by putting millions of sensitive voter information in the hands of the incumbent President and runner in the up-coming elections – in a country that lacks any serious data protection laws. The constitutional rights of the Kenyan people when it comes to their privacy are at risk of getting breached, considering that the acting Government has not made any necessary steps into passing a data protection bill, and the data-mining operations that Cambridge Analytica will employ on Kenyan soil might seriously affect the security of the Kenyan citizens in the next months, due to the already existing ethnic schism present in the country.
Political campaigners or mercenaries for hire?
This very profitable field of work that is political marketing or data-collection for political gains verges on the brick of what is right and what is wrong – going as far as completely disregarding ethics or morality in many cases. In most of the cases, the companies that are getting hired to do the job will act as "mercenaries", effectively choosing to work for the highest bidder regardless of who that is. However, this brings in a huge problem that must be pointed out – in most of the times, these companies work in a "grey" area, legally-speaking, mainly because they try to outright bend the constitutional rights in their own favour and because they will employ virtually any type of "psychological warfare" in order to win.
While data-mining is at the core of finding out voter patterns, these firms will go as far as managing the entire political communication in an election. Such is the case of Bell Pottinger, a London-based firm, self-described as an "integrated, international reputation management agency". Bell Pottinger has recently came under intense scrutiny after various sources pointed out that the UK firm was spreading racial discontent in South Africa, as per their work for the influential Gupta family that has close ties with incumbent President Jacob Zuma.
The #GuptaLeaks – name given to the scandal that has hit South Africa in the last couple of days – show how the influential South-African Gupta family and the British PR firm Bell Pottinger made use of fake social media profiles to disseminate a counter-narrative of "white monopoly capital" in order to defend their operations in South Africa. These race-baiting messages that were being propagated on various social media outlets via the use of fake accounts are not only dangerous, given the social and political landscape that South Africa is going through at the moment, but they also show how far an international firm can go for their clients in order to win.
It remains to be uncovered just how extensive and ruthless these firms can truly be, but given the evidence at hand one must really ponder on the thought that these types of operations take place on a global scale, in virtually all democratic countries. As long as there is a profit to be made, these vultures will pray on the electoral processes that take place, completely disregarding the immorality of their actions and the impact that they have on the general population.
As George Orwell correctly stated: "Political language is designed to make Lies sound Truthful and Murder respectable". Sadly, not only was he completely right, but his use of the term "murder" can be disseminated into numerous angles – the one I chose to make here refers to the murder of the most fundamental democratic process there is: the unequivocal right to vote as you wish, based on the research that you've done.
This is not another case of fake news or political propaganda – it's straight up deceit, on an international scale.