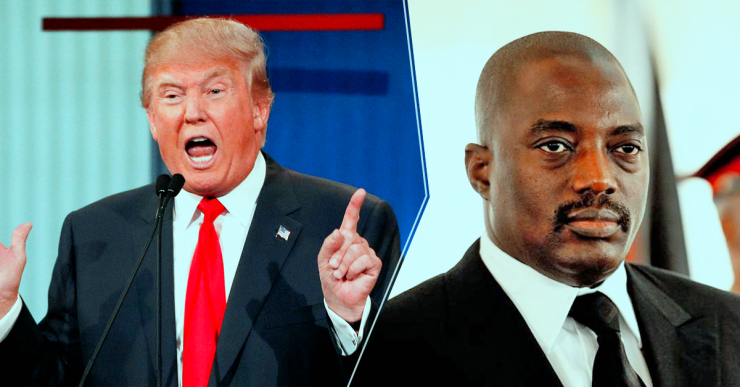 Just a few days before the US presidential elections, four Congress members urged US President to "expand the scope of sanctions" and initiate "additional judicial investigations into kleptocratic activity by top DRC officials". The Congressional letter to president Obama is bipartisan, being supported alike by Democrats and Republicans. Two Republican lawmakers signed the letter: Ed Royce, Chairman of the House Committee on Foreign Affair, and Chris Smith, Chairman of House Subcommittee on Africa. Both highly influential members of Congress, Royce and Smith have been strongly involved in Donald Trump's presidential campaign.
New Bipartisan Congressional letter urges US President to expand sanctions on Kabila's regime
On 1 November 2016, US representatives wrote President Obama to expand sanctions against Joseph Kabila's associates. The lawmakers cited evidence suggesting that "significant funds have been diverted from RDC's treasury to enrich members of the ruling elite" and called on US President to counter the ability of these elites to benefit from stolen riches.
The letter urged Obama Administration "to take much stronger steps", including "additional judicial investigations", against Kabila and his allies: freeze Congolese officials' assets, identify criminally-derived assets held by DRC officials, and find and confiscate the proceeds of corruption.
According to the House members, "evidence suggests that additional senior officials are appropriate target for US sanctions". This includes but is not limited to the minister of Interior Évariste Boshab, who is "one of the main architects of the effort to extend President Kabila's rule", and the head of the national intelligence service Kalev Mutond, who is "implicated in gross human rights abuses".
The letter mentioned above, here: obama-letter-on-drc-nov-2016
Kabila's toughest critics are Trump's top advisors
The bipartisan Congressional letter is signed by Christopher (Chris) Smith, Chairman of House Subcommittee on Africa, Edward (Ed) Royce, Chairman of House Committee on Foreign Affair, Karen Bass, ranking member of House Subcommittee on Africa, and Eliot Engel, ranking member of House Committee on Foreign Affair.
Karen Bass and Eliot Engel are members of the Democratic Party. Chris Smith and Ed Royce are Republicans. On 13 June, a Resolution urging respect for the constitution of the Democratic Republic of the Congo in the democratic transition of power in 2016 was introduced in the U.S. House of Representatives. Ten days later, US imposed sanctions on Célestin Kanyama. The House Resolution was introduced by Congressman Chris Smith and cosponsored by Congressman Ed Royce.
Elected in 1980, Chris Smith is currently in his 18th two-year term in the U.S. House of Representatives. Congressman Smith serves as a senior member on the Foreign Affairs Committee, and is chairman of its Africa, Global Health, Global Human Rights and International Organization Subcommittee. Chris Smith is renowned around the world as a human-rights hawk that fights for sanctions against countries that oppress their citizens.
Strongly involved in Donald Trump's campaign, Chris Smith co-chaired the Pro-life Coalition in support of the Republican presidential candidate.
Ed Royce is a Republican congressman representing Southern California's 39th District in the U.S. House of Representatives. One of the most influential members of Congress, Ed Royce has chaired the House Foreign Affairs Committee since 2013. He is a leader in the global fight to advance human rights, and free and fair elections.
Ed Royce is also a top advisor to the newly elected President of the United States Donald Trump. Congressman Royce announced his support for Donald Trump in May 2016 and has stood by him through the entire presidential campaign.
Timeline: US pressures on Kabila regime
When it comes to the DRC crisis, the US policy makers are in consensus: President Kabila is guilty of violent repression and must step down. From the beginning of 2016, both executive and legislative branches of the US government, both republicans and democrats have underscored the growing sense of urgency about the DRC crisis.
Senator Edward Markey, the top Democrat on the Senate Foreign Relations Subcommittee on Africa, wrote Secretary of State John Kerry on 4 February 2016. In his letter, senator Markey expressed "deep concern" about Joseph Kabila's actions to delay elections. "If Kabila fails to meet clear benchmarks required to hold a free and fair national election this year – Edward Markey said – then the U.S. and other partners will implement sanctions, including targeted visa denials and asset freezes."
On 10 February 2016, Ambassador Thomas Perriello, US Special Envoy for the Great Lakes of Africa, and Linda Thomas-Greenfield, Assistant Secretary of State for African Affairs, testified before the Senate Foreign Relations Committee. "A political crisis is building as the DRC prepares — or rather fails to prepare — for upcoming, historic elections scheduled for this November", Ambassador Perriello told the Congress. His warning was echoed by the Assistant Secretary of State who added that a political confrontation over respect for the DRC's constitution could carry "potentially disastrous results for the people of the DRC and the region".
On 15 April, Senator John McCain, chairman of the Senate Armed Services Committee and former Republican presidential nominee, wrote to the DRC's ambassador to the United States to express his "deep concern at the increasingly repressive political climate and erosion in the human rights situation."
Just a few days later, on 25 April, at the United Nations, Secretary of State John Kerry told Joseph Kabila that "timely and credible elections" in the DRC were essential to the country's future.
On 26 May, six Senators, Edward Markey, Richard Durbin, Christopher Murphy, Jeanne Shaheen, Christopher Coons, and Patrick Leahy, introduced a resolution urging the Government of the DRC to comply with constitutional limits on presidential terms and fulfil its constitutional mandate for a democratic transition of power in 2016. The senators called on President Obama "to impose targeted sanctions on those officials who are responsible for violence and human rights violations and undermining the democratic processes or institutions of DRC, including visa bans and assets freezes".
On 13 June 2016, a bipartisan group of lawmakers urged President Obama to impose visa denials and asset freezes and to "investigate and target money laundering activities, specifically related to the diversion of proceeds of corruption, by key figures close to President Kabila". The House Resolution 780 Urging respect for the constitution of the Democratic Republic of the Congo in the democratic transition of power in 2016 was introduced by Representative Christopher Smith and cosponsored by ten other House members, both republican and democrat, Edward Royce, Karen Bass, Eliot Engel, Thomas Rooney, Joseph Pitts, David Cicilline, Gwen Moore, William Keating, James McGovern, and Michael Capuano.
Ten days later, on 23 June, US imposed sanctions on Célestin Kanyama. Gabriel Amisi Kumba and John Numbi were blacklisted in September.