In June 2017, when they started their campaign against President Lungu using the FQM-ZCCM settlement as a pretext, Chishimba Kambwili and his allies needed mouthpieces. The conspirators provided their friends in opposition media not only with documents, but also with a list of people to interview. Two leaders of small opposition parties were on that list: the leader of All Peoples Congress, Nason Msoni, and Saviour Chishimba, president of United Progressive People. Their role was to spread insults and threats. And both Msoni and Chishimba played their part. Nason Msoni accused the President's interference with judiciary and called Edgar Lungu "criminal" and "shameless hypocrite". Saviour Chishimba praised ZCCM's "noble fight" against FQM and urged ZCCM CEO Pius Kasolo to defy the President. He also made death threats to Edgar Lungu and called for the President to be mentally examined.
Chishimba: "Lungu is a corrupt dictator, Kasolo is a gallant patriot"
In June 7 2017, deploring the imprisonment of his "
dearly beloved brother and comrade
" Hakainde Hichilema, Saviour Chishimba accused president Lungu of interfering in the ZCCM-FQM court case. A few days later, he launched another vitriolic attack on President Lungu, accusing him of ordering ZCCM to discontinue the case against FQM. The ruling Patriotic Front, Saviour Chishimba said, is split between Edgar Lungu's "
corrupt circle
" and a group of leaders defending the national interest. The latter's standard-bearer is ZCCM CEO Pius Kasolo. According to Saviour Chishimba, "
President Lungu now seeks the removal of the gallant and patriotic ZCCM-IH CEO, Mr. Pius Kasolo, for his noble fight to protect and secure national interests by suing FQM
".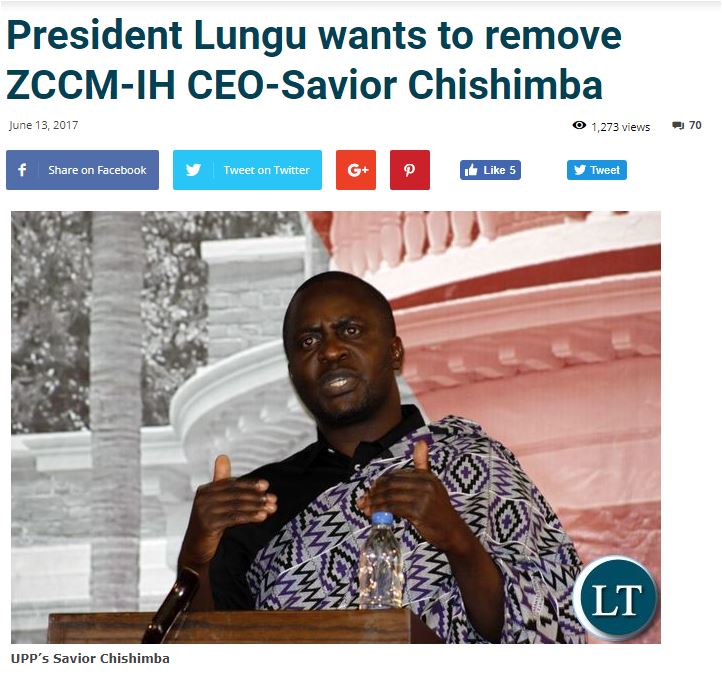 On June 26, announcing UPP's intention to nationalize mines, Saviour Chishimba demanded for "
an immediate cessation of the wealthy President Edgar Chagwa Lungu's meddling in the noble duty of ZCCM-IH
".
Kambwili is behind Chishimba
Chishimba Kambwili and Saviour Chishimba are old friends. Both improved their status in 2006 when they were elected Patriotic Front MPs. They have always presented themselves as party founders, who wrote the PF manifesto, insisting that the party belongs to them and they want to take it back. Savior Chishimba shares Kambwili's populist, anti-business rhetoric. In November 2006, Kasama Central MP Saviour Chishimba (PF) said the Government should act against "
bogus investors
". In March 2009, PF members of parliament Chishimba Kambwili and Saviour Chishimba staged a protest at Zambia National Broadcasting Corporation headquarters against the mining companies. They announced their decision "
to wage war against these infesters who pretend to be investors
".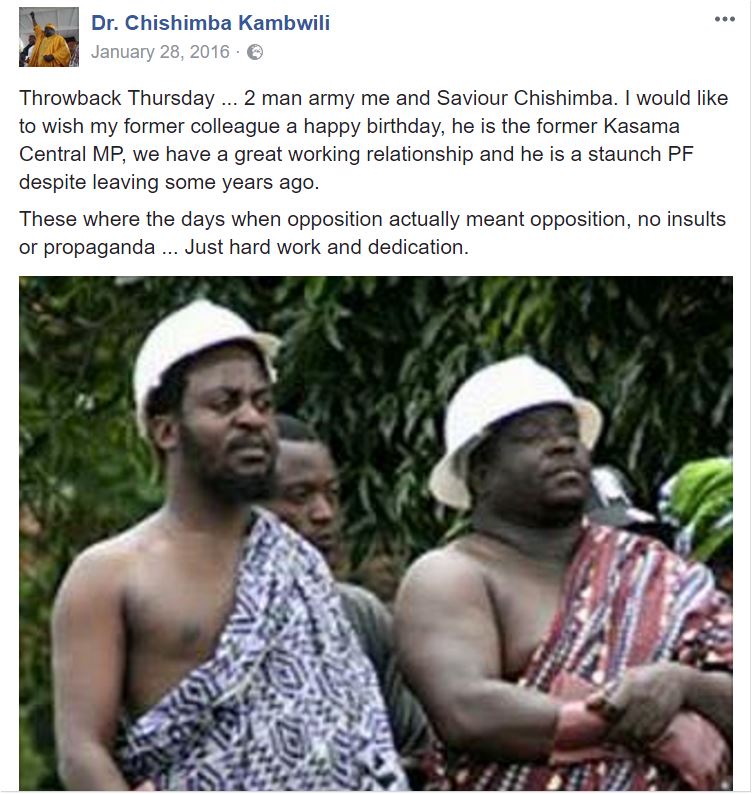 OSI has revealed that those public actions were nothing but demagogy. While condemning the mining investors, Chishimba Kambwili was controlling a UK-based mining company, Mining Logistics International Limited. (
http://www.opensourceinvestigations.com/
)
Fighting for PF leadership
In May 2009, Chishimba Kambwili and Saviour Chishimba were behind an attempt to oust Michal Sata and take over the leadership of PF. Party cadres on the Copperbelt appealed to president Michael Sata to call for a national convention at which new leaders should be elected. Chishimba Kambwili and Saviour Chishimba's supporters released a statement claiming that the PF was not growing because of the leadership style of Michael Sata, his old age alienating him from being Zambia's leader: "
Mr Kambwili and Dr Chishimba are our favourites to take over the leadership of our party, we are behind them. We are ready to help with the campaigns"
. The plan failed and in July 2009, Saviour Chishimba, resigned from PF and from the legislature. Describing President Sata as an "
old man
", he called on the youths of Zambia "
to vote out old politicians and start campaigning for the Presidency for the sake of Zambians
". He said he will soon launch his Saviour "Chishimba Non-Governmental Organization". But instead of an NGO, Chishimba formed a party, the United Progressive People's party (UPP). UPP did poorly in the 2016 general election, wining only 333 votes. But its founder has made a name for himself by attacking President Lungu and his ministers. Saviour Chishimba has accused almost every PF high official of corruption. Except Chishimba Kambwili, of course. It was Kambwili himself who has been cheering on Saviour Chishimba to discredit PF leadership.