"
If there are any payments that need to be done, I will take them up. I will make all the payments needed.
" This is what Chishimba Kambwili told Saviour Chishimba while visiting him at Woodlands Police Station on 8 August 2017. And Kambwili knew exactly what he was saying. He was offering money to one of the mouthpieces of the plot against Edgar Lungu. When he urged ZCCM CEO to defy President's call for an out of court settlement in the FQM case, Chishimba was not acting simply as Kambwili's friend. Saviour Chishimba's anti-PF campaign was paid for by Chishimba Kambwili.
US$40,000 for Chishimba's expenses
Established in 1986, Zambia's National Youth Development Council (NYDC) is a statutory body under the Ministry of Youth. The Council's mandate is to advise the Minister on programs relating to youth development, to co-ordinate youth activities, and to evaluate and implement youth programs. The Minister of Youth appoints the chairman of NYDC. In November 2013, Minister of Youth and Sport Chishimba Kambwili appointed Saviour Chishimba as National Youth Development Council chairperson. Less than a year later, NYDC chairperson Saviour Chishimba was at the centre of a major corruption scandal. Saviour Chishimba used his government position to line his pockets. In August 2014, Transparency International Zambia expressed concern over the use of NYDC funding. According to Transparency International, NYDC had paid Council chairperson colossal amounts at the expense of programs that were supposed to benefit the youth. Over 30 percent of the funding received by NYDC had been spent on Saviour Chishimba. Transparency International's data were confirmed by the Auditor General's Office several months later. The Audit report concluded that NYDC was involved in double payments amounting to K153,134 (21,500 US dollars) to its chairperson, Saviour Chishimba receiving K95,384 daily subsistence allowance and K57,750 sitting allowance. The Auditor General's Office also noted that a total of K284,596 (40,000 US dollars) representing 30 percent of the funds released to NYDC were applied on chairperson Saviour Chishimba's expenses.
Kambwili covered up Chishimba's misconduct
In August 2014, Transparency International Executive Director made a public statement and the NGO officially wrote to the Ministry of Youth and Sport asking for an internal inquiry into Saviour Chishimba's conduct. But the Minister of Youth and Sport was Saviour Chishimba's friend and benefactor Chishimba Kambwili. So nothing happened despite public outcry. However, six months later, president Lungu decided to replace Kambwili with Vincent Mwale, and the new Minister of Youth asked NYDC chairman to step down or be fired. Minister Mwale reported the matter to the Anti-Corruption Commission for further action. Saviour Chishimba refused to step down. In his usual manner, he responded by making accusations against his critics. Chishimba announced that he instructed his lawyers to commence legal proceedings against Transparency International. He tried to cover his tracks alleging that in fact "
some senior government officials at the Ministry of Youth and Sport
" were involved in the misuse of funds at the NYDC. On 2 July 2015, Minister of Youth and Sport Vincent Mwale dissolved NYDC board. Minister Mwale told that his decision was meant to pave way for investigations into abuse of authority of office and embezzlement of funds by the Chishimba-lead board. In February 2017, Saviour Chishimba appeared before the Anti-Corruption Commission. In July, ACC concluded investigations into mismanagement of funds at the National Youth Development Council involving Saviour Chishimba.
PF-sponsored anti-PF campaigns
In November 2013, when he was appointed NYDC chairman, Saviour Chishimba was the leader of an opposition party and an anti-PF activist. That didn't stop a PF official, Minister of Youth and Sport Chishimba Kambwili, from giving Chishimba a high-paid position in a government institution. In March 2015, in the midst of the NYDC corruption scandal, the same PF official (who in the meantime had become Minister of Information) appointed Saviour Chishimba as Director of Programmes in a PF initiative, Team 7500 movement.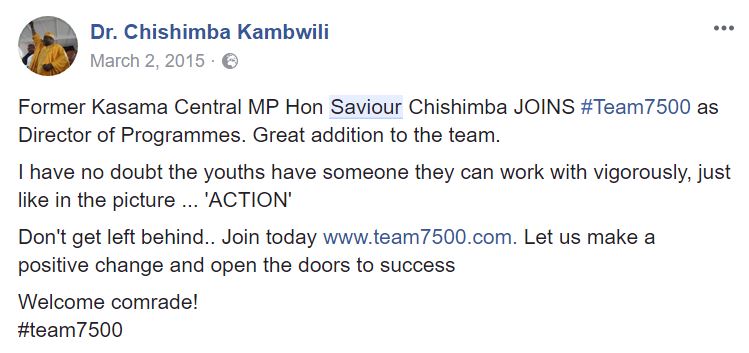 In the last couple of years, it was minister Kambwili himself who has encouraged Saviour Chishimba to discredit other PF cabinet members. Kambwili was still an MP and a member of PF Central Committee when Saviour Chishimba attacked President Lungu using the FQM-ZCCM settlement as a pretext. (
http://www.opensourceinvestigations.com/
) For years, a PF official, Chishimba Kambwili, sponsored Saviour Chishimba's vitriolic attacks on president Lungu and PF.