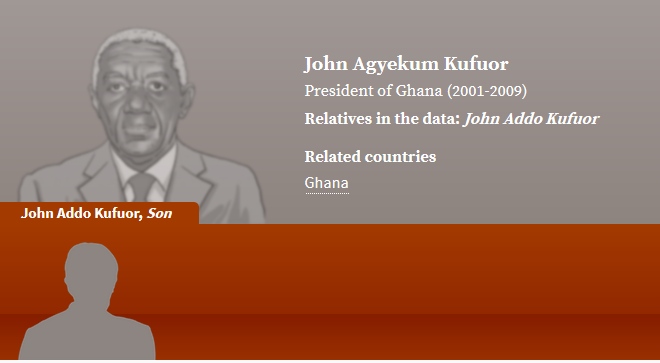 Rumors begin to circulate that, when it comes to Ghana, there is more to Panama Papers than it meets the eye. It appears that Nana Addo Dankwa Akufo-Addo has more connections with the family of former President John Agyekum Kufuor than one would have thought. And these connections don't necessarily bring back happy memories to John Kufuor.
In late 2005, as Minister of Foreign Affairs under Kufuor and an important leader of the New Patriotic Party (NPP), Nana Addo Dankwa Akufo-Addo apparently came up with a plan to place money in foreign accounts so that NPP would be prepared for the 2008 electoral campaign.
According to our sources, Akufo-Addo discussed the plan with Kufuor. After several rounds of talks, the two men came to the conclusion that the best way to move money out of Ghana was through the Excel 2000 Trust, a trust owned by Kufuor's wife Theresa and his son John Addo Kufuor.
Apparently, the deal was sealed in April 2006, when President Kufuor went to United States, accompanied by his wife, Theresa Kufuor, and Ghana's Minister of Foreign Affairs, Nana Addo Dankwa Akufo-Addo. While in Washington, honoring the invitation of President George W. Bush, the two Kufuors and Akufo-Addo made the final preparations to use the Excel 2000 Trust as a vehicle to move money from Ghana into Panama.
We cannot yet confirm that the plan was executed the way it was envisioned or a different vehicle was selected at a later date, but one thing is certain: the money moved out of Ghana by Kufuor and Akufo-Addo are the root of the conflict that emerged between John Agyekum Kufuor and Nana Addo Dankwa Akufo-Addo, a conflict that still divides NPP.
It is our understanding that John Kufuor felt at that time, and still feels today, that Akufo-Addo tried to bully John Addo Kufuor. One of our sources remembers that in October 2006 Akufo-Addo burst into the office of John Addo Kufuor, and yelled at him, calling him "incompetent" and "incapable of getting a simple job donne." As a father, John Agyekum Kufuor simply couldn't tolerate the way his son was treated by Akufo-Addo. This is the real reason Kufuor purged Nana Addo from his government in 2007.
John Agyekum Kufuor will never forgive Nana Addo Dankwa Akufo-Addo, and the current situation makes it even more difficult for him to respect Akufo-Addo, since the revelations from Panama Papers brings back painful memories to him.