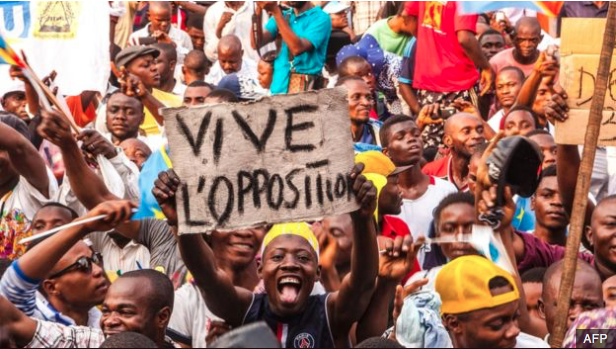 Joseph Kabila's associates will have the fate of Vladimir Putin's friends. The Russian oligarchs have lost billions of dollars as a result of the sanctions imposed by the US and the EU following the annexation of Crimea. Not a single bank has helped Putin's allies. OFAC does not consider foreign financial institutions as being outside of its jurisdiction and has already imposed huge fines on banks for evading sanctions. No one will help Kabila's allies either.
Sanctions have deeply hurt Russian oligarchs
In March 2014, in response to the annexation of Crimea and the interfering in Eastern Ukraine, the United States, the European Union and other partners imposed sanctions on Russian individuals and businesses. The sanctions were further expanded and strengthened in 2015 and 2016.
The US Office of Foreign Assets Control (OFAC) added dozens of President Vladimir Putin's allies to its blacklist. The sanctions have soon brought damage.
Between 2014 and 2016, Russian oligarchs have lost billions as a result of the US, EU and their allies' sanctions. Arkady Rotenberg has lost $3 billion, his brother Boris Rotenberg has lost $700 million, and Yuri Kovalchuk has lost $1 billion. They are all banking tycoons with close links to President Vladimir Putin
However, another Russian billionaire, Gennady Timchenko, is the most affected by the sanctions with an estimated loss of about 4 billion dollars.
Putin allies dropped down Russia's rich list. According to Forbes Russia, Arkady Rotenberg fell 15 spots down the list, while Yuri Kovalchuk dropped 30 places.
Kabila's allies will have the fate of Putin's friends
OFAC describes Putin's and Kabila's allies in the same words: "members of the president's inner circle", "close advisors to the president", "government officials engaged in illegal actions".
In both Russia and the RDC, OFAC targeted regime's finances. Gennady Timchenko, who was named by Putin as a "personal friend", is the world's most powerful trader of Russian oil. Arkady Rotenberg, Putin's longtime friend and judo sparring partner, has been given major construction contracts by the Russian government. According to OFAC, Yuri Kovalchuk is "the personal banker for senior officials of the Russian Federation, including Putin".
OFAC hunted Putin's allies down. All their international bank accounts are frozen and they are subject to visa bans. All their assets abroad are blocked. US and EU individuals and companies are prohibited from dealing with them.
Gennady Timchenko, for example, was forced to return from Geneva, where his family lives, to Moscow. Visa and MasterCard has refused to provide service to his accounts. His private US-manufactured jet has not left the hangar in Moscow because the manufacturer refuses to provide spare parts, and the pilots have no right to use the navigation system and built-in maps.
The consequences of evading sanctions
The Crimean sanctions proved once again that OFAC does not consider foreign institutions outside of its jurisdiction. No financial institution has tried to circumvent or evade the sanctions because in the recent past many major banks were targeted by OFAC. The agency is entitled to levy significant penalties against entities that defy it, including imposing colossal fines.
Some of the largest banks in the world have entered into mammoth settlements with OFAC for obfuscating practices. In 2012, ING Bank NV entered into a $619 million settlement for evading the US sanctions on Iran. That followed a $500 million 2010 settlement with ABN AMRO for sanctions violations involving Cuba, Iran, Libya and Sudan, and a $350 million 2009 settlement with Lloyds TSB Bank PLC that largely involved violations of sanctions against Iran.
In July 2014, France's largest bank, BNP Paribas, agreed to a global settlement with OFAC and several US state and federal government agencies. In a record-breaking settlement with a foreign bank, BNP Paribas agreed to plead guilty to criminal charges and pay 8.9 billion dollars for violations of multiple US sanctions programs.
Sanctions have deeply hurt some of the richest and most powerful men on the globe, Putin's allies, the Russian oligarchs. The consequences of evading sanctions are so damaging that no person or entity operating in the financial services has tried to help the Russian billionaire blacklisted by the OFAC.
The future is bleak for Kabila's allies.