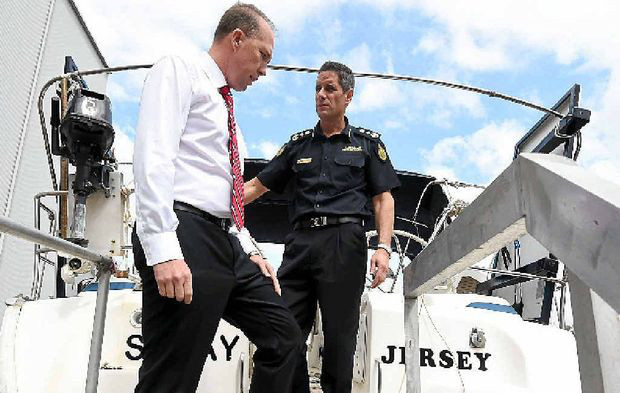 Cocaine is very expensive in Australia because of the difficulty of getting it in. A kilogram of cocaine on the Australian local market costs three times as much as in Canada, for example. With such large prices and with cocaine seizures being on the increase, the crime syndicates have been resorting to more sophisticated ways of trafficking, using luxury yachts and cruise ships to smuggle drugs into Australia.
A 44-foot luxury yacht on the Gold Coast
On the morning of 24 August 2015, a Bavaria 44-foot yacht named The Solay arrived on Queensland's Gold Coast. The boat, registered in Jersey in the United Kingdom, was sailed from South America to Australia via Vanuatu by a 43-year-old Estonian skipper, who was the sole occupant of The Solay.
Upon arrival, the Estonian met a UK national and they purchased a number of tools to remove items hidden inside the body of the vessel. The two men carried duffel bags and travelled by car to meet three other men at a separate location.
The yacht was under surveillance. Based on intelligence received from European partners, including the Maritime Analysis an Operations Centre – Narcotics (MAOC-N) which is the European centre targeting illicit drug trafficking by sea and air, Australian authorities had identified and monitored the vessel.
Australian Federal Police arrested all five men. 40 kilograms of cocaine were found inside the vehicle. Further searches of the yacht revealed 30 kilograms of cocaine hidden in the walls of The Solay. The 70 kilograms cocaine haul was estimated to be worth US$17 million. Australian Police identified the men as members of the crime syndicate operating in Queensland.
Isabelle and Melina's suitcases
In July and August 2016, two Canadian women, 28-year-old Isabelle Lagacé and 23-year-old Melina Roberge, documented their trip around the world on social media. Alongside 63-year-old Canadian André Tamine, they spent almost two months on luxury liner the MS Sea Princess, which departed from UK, made stops in Canada, USA, Colombia, Peru and New Zealand, before arriving in Australia.
Isabelle and Melina have frequently posted about their lavish US$15,000-a head vacation on their social media accounts. Pictures of the two women riding quad bikes, hiking and posing in bikini were posted on Instagram throughout their trip.
They are now facing life in prison in Australia. While documenting the luxury globe-trotting vacation, Isabelle and Melina were also smuggling, along with their companion, 95 kilograms of cocaine.
On 29 August, the MS Sea Princess reached Sydney harbour, the last stop of its long voyage. But before the passengers went ashore, border agents, Australian Federal Police, and sniffer dogs carried out a search of the ship's 2,000 compartments.
The search led to the discovery of 35 kilograms of cocaine in suitcases in the cabin Isabelle Lagacé and Melina Roberge shared. 60 kilograms were found in André Tamine's cabin. It was a record seizure. According to Australian border agents the US$23 million worth of cocaine was "the largest seizure in Australia of narcotics carried by passengers of a cruise ship or airliner".