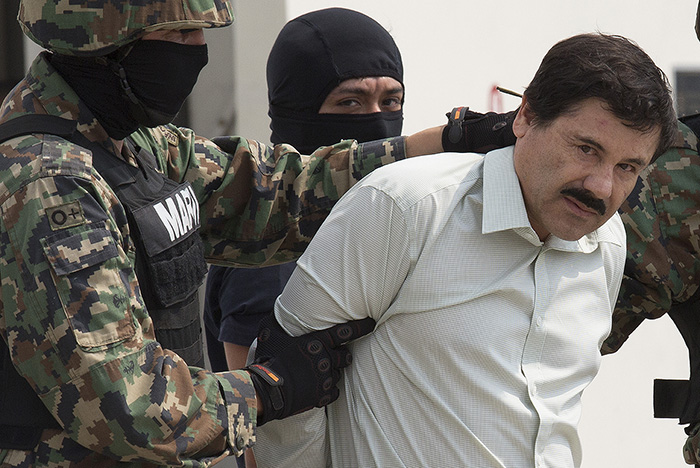 On 8 February 2016, Mexican President Enrique Peña Nieto announced the recapture of the fugitive drug lord Joaquin Guzmán, better known as El Chapo, six months after he escaped from a Mexican maximum security prison. The President wrote on his Twitter account: "Mission accomplished: we have him."
El Chapo's July 2015 escape through a tunnel from the highest-security prison in the country was indeed the biggest embarrassments of President Peña Nieto's administration. But was the mission really "accomplished"?
The most wanted criminal in the U.S.
"I supply more heroin, methamphetamine, cocaine and marijuana than anybody else in the world. I have a fleet of submarines, airplanes, trucks and boats", told El Chapo in his controversial interview with Sean Penn weeks before his arrest.
For the past few decades, El Chapo has been the head of Sinaloa cartel, probably the world's most powerful drug-trafficking organization. Joaquin Guzmán was the most wanted criminal in the United States after the 2011 death of Osama Bin Laden. The U.S. government has indicted Guzmàn and placed a $5 million bounty on his head. He has been named as one of the richest and most powerful men in the world by Forbes magazine.
The Mexican authorities have tracked El Chapo for more than two decades. Twice (in 1993 and 2014), they sent him to maximum security prisons. Twice (in 2001 and 2015), he miraculously escaped, achieving almost legendary status.
Now El Chapo is caught (again). However, there is nothing to be triumphalist about.
Mexican forces have captured drug lords in the past but proved ineffective in dealing with the web of corruption between the organised crime and government officials. All major criminals who evaded capture did so with the active complicity of the police and politicians. Without reducing the corruption of the police forces and the political class, the drug war will definitely fail in Mexico.
El Chapo's circles of protection
It is an open secret that Guzmàn has protected himself by bribing top Mexican officials
In 2009, for example, nearly half a ton of drugs were seized in the border town of Mexicali, Baja California. The federal Attorney General's Office brought charges against El Chapo after evidence was found that he was involved in the trafficking. However, a Mexican judge dropped the charges citing a lack of evidence.
On 11 July 2015, Guzmán escaped from the maximum-security Altiplano Prison. He used a drug tunnel, a method that has helped his cartel make billions (more than 100 tunnels have been discovered along the U.S.-Mexico border since the 1990s). The tunnel lay 10 m deep underground, and was 1.7 m tall and 75 cm in width. It was equipped with artificial light, air ducts, and high-quality construction materials.
More than 40 people were arrested in connection with Guzmán's escape from Altiplano in 2014, but, although investigators also questioned El Chapo's ties to a Sinaloa state legislator who visited the drug lord in his jail cell three months before his escape, the arrests limited to low level security agents including eight prison staffers and 15 federal agents.
In July 2015, U.S. law enforcement officials were quoted in the media saying that, during the year and a half that Guzmán was incarcerated, the U.S. Drug Enforcement Administration told Mexican officials that his relatives and associates were plotting various efforts to try to spring him from jail. In responding to these reports, Mexican officials said they had no information about whether they had received American warnings in the past.
In November 2015, chapo.proceso.com.mx released a highly-detailed article based on intelligence reports obtained by Mexicoleaks, describing how recorded conversations of the Sinaloa Cartel chief and evidence gathered by his guards should have alerted authorities to a potential escape attempt months before he broke out of Altiplano maximum security prison in July 2014.
According to the report, federal police documented conversations that showed El Chapo was using his lawyers, officials from Mexico's Interior Ministry, and fellow inmates to try and gain access to maps of the prison layout. Analysis of the reports was submitted to an Intelligence Commissioner, the head of the National Security Commission and the Interior Minister Miguel Angel Osorio Chong, but there is no evidence they were acted on.
The intelligence identified El Chapo's lawyer as the person who had been tasked with obtaining the plans because of his knowledge of "official hierarchies in penitentiary centers and other government institutions". One report on his efforts made reference to "a friend who ranks above Celina Oseguera Parra", the then general director of Mexico's federal prisons, who was arrested for her alleged role in El Chapo's escape. According to chapo.proceso.com.mx, this connection could only have been Mexico's National Security Commissioner Monte Alejandro Rubido Garcia, Minister of the Interior Osorio Chong, or then head of the prison system Ignacio Hernandez Mora.
"As soon as possible" in Mexican time
On 22 January 2016, Mexican President Enrique Peña Nieto announced that his government is working to extradite Joaquín "El Chapo" Guzmán to the United States "as soon as possible" to face multiple federal drug trafficking charges. But that could take months, or even years. Other Mexican drug lords have been extradited to the U.S., but only after several years of fighting their extradition through a series of court filings.
El Chapo had also previously been imprisoned in 1993. While still in prison in Mexico he was indicted in United States on drug and money laundering charges. In 2001, shortly after the Supreme Court of Mexico had ruled in favour of his extradition, Guzmán managed to escape by hiding in a laundry cart and aided by bribed prison guards.
Guzmán knows the details about which top politicians, law enforcement and military leaders have been corrupted by the various Mexican drug cartels. Can Mexico's trouble-plagued judicial and political systems keep Guzmán locked up long enough this time to extradite him to U.S.?
As for politicians, El Chapo seems certain that he has nothing to be afraid of. "Talking about politicians, he said to Sean Penn, I keep my opinion to myself. They go do their thing and I do mine."