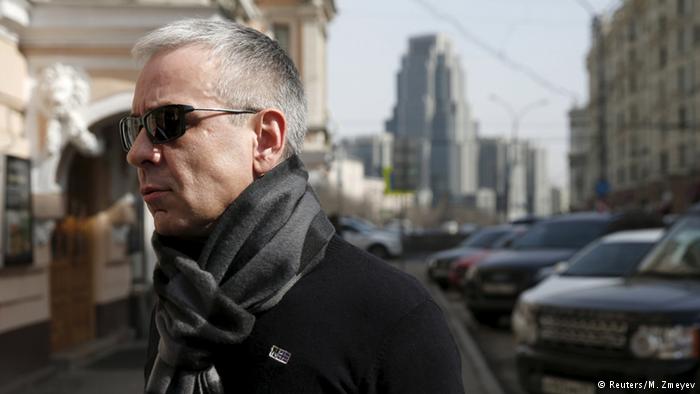 On 21 January 2016, British police issued arrest warrants for Russian-nationals Andrey Lugovoy and Dmitry Kovtun, both accused of murdering Alexander Litvinenko. The UK inquiry found that Lugovoy and Kovtun poisoned Litvinenko with polonium-210 and the murder was "probably approved" by President Vladimir Putin.
Former Russian spy and Kremlin critic Alexander Litvinenko died on 23 November 2006, three weeks after having tea with Lugovoy and Kovtun in a hotel in central London. The Crown Prosecution Service accused Lugovoy (in 2007) and Kovtun (in 2011) as being suspects of murdering Litvinenko and requested their extradition. The request was refused by Russia, since the Russian Constitution explicitly forbids the extradition of Russian citizens.
Lugovoy and Kovtun both denied any involvement in Litvinenko murder.
Following Litvinenko's death, Lugovoy became a public figure, getting elected as an MP in the State Duma and hosting a TV show about "traitors" on Zvezda television, the official military television station of the Russian Armed Forces. In March 2015, President Vladimir Putin gave a state honour to Andrey Lugovoy for "his great contribution to the development of the Russian parliamentary system and his active role in lawmaking".
Despite the media coverage, Dmitry Kovtun is still a shady figure.
Deserter, heavy drinker and porn star wannabe
50 years old Dmitry Vladimirovich Kovtun is Andrey Lugovoy's childhood friend and classmate. In his witness statement, Kovtun said he first met Lugovoy in 1978 or 1979. "We lived in the same building where my family and his family were given flats at the same time." Coming from military families, they both attended the Soviet Military Academy in Moscow.
After graduation, Kovtun joined the Soviet army and went abroad, serving in Czechoslovakia and East Germany. He married in Germany and, after the collapse of the Soviet Union in 1992, he deserted on hearing his unit was to be sent to Chechnya. Kovtun and his wife fled to Hamburg and claimed political asylum in Germany.
Kovtun lived in Hamburg until 2003, taking various jobs, including being a waiter and dishwasher. His then wife said he wanted to be a porn star and had a drinking problem. His two ex-wives described him as charming, impractical and living off benefits and occasional manual work.
Kovtun returned to Russia, where he and Lugovoy resumed their relationship, working together on corporate security and spending holidays together.
In his visa application for his visit to UK in 2006, Kovtun described himself as a wealthy company director involved in the oil and gas industry. However, the British inquiry established that, in 2006, he had no credit card. His first wife also cast doubt on whether Kovtun's claims of involvement in the industries were true.
Did Kovtun join the KGB/FSB? No, according to Kovtun himself. Yes, according to the British inquiry and the Russian official media which frequently call him a "former FSB agent".
"It was meant as an example"
The inquiry heard that, in October 2006, Kovtun told a close friend and former restaurant co-worker in Hamburg that he planned to poison Alexander Litvinenko.
Interviewed by the German police, Kovtun's friend said that Kovtun called him on the phone him out of the blue on 30 October 2006 and asked if they could meet: "He said 'Litvinenko is a traitor, there is blood on his hands'. "He asked me if I knew a cook who was working in London. He said he had a very expensive poison and needed a cook to administer it to Litvinenko." "I did not take seriously what Dmitry said. I thought it was just talk. I said 'Is he crazy? It would be much easier to shoot Litvinenko', jokingly. He said it was meant as an example. I said 'Why did you tell me, of all people?'"
(On 9 December 2006, German police reported finding traces of radiation at the Hamburg flat used by Kovtun. German prosecutors opened a case against Kovtun, who had a resident permit in Germany, but closed it in 2009.)
Beginning with 16 October 2006, Lugovoy and Kovtun met Litvinenko in London on several occasions. Their last meeting was on 1 November 2006 in the Pine Bar at the Millennium Hotel, where, according to the inquiry findings, Lugovoy and Kovtun placed polonium-210 in Litvinenko's teapot. Hours later, 43-year old Litvinenko fell ill and, after three weeks, he died at the University College Hospital in London, becoming the first confirmed victim of lethal polonium-210-induced acute radiation syndrome.
Traces of polonium-210 were found in hotels and dining rooms used by Lugovoy and Kovtun in London. Radioactive traces were also found on the plane in which they travelled back to Russia.
In December 2006, Dmitry Kovtun became suddenly and seriously sick and he was hospitalised in Moscow with radiation poisoning. There were rumours about him slipping into a coma and was experiencing failure of major organs. The rumours turned up to be false and Kovtun recovered.
The Moscow businessman
Nowadays, Kovtun is a businessman in Moscow.
After years in which Andrey Lugovoy was the only official suspect in Litvinenko's death, in November 2011 the Crown Prosecution Service accused Dmitry Kovtun of murdering Alexander Litvinenko in London. Kovtun told The Sunday Times that charging him with involvement to Litvinenko murder would be a "politically-motivated step" and denied all accusations. In 2012, UK requested Kovtun's extradition, but Russia refused the request.
The Russian Investigative Committee has launched its own criminal case. The Russian investigation is into "the murder of Litvinenko and attempted murder of Dmitry Kovtun and attempted murder of Andrey Lugovoi". Kovtun and Lugovoy are therefore recognized as aggrieved parties in the criminal case. According to the Russian law enforcers, Litvinenko accidentally poisoned himself when he took part in an illegal polonium sale and Lugovoy and Kovtun were accidentally contaminated when they met Litvinenko.