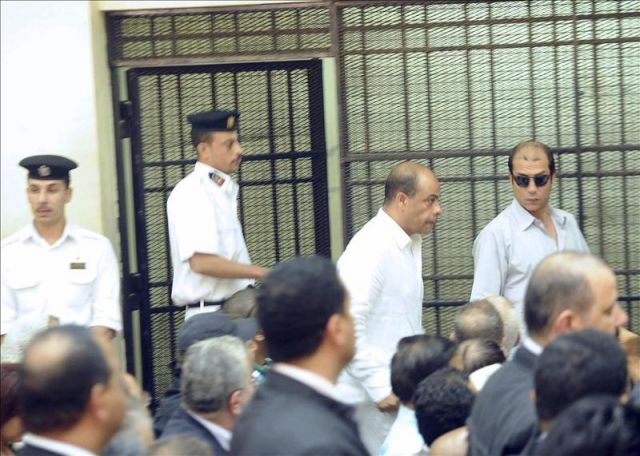 On 10th of February 2016, an Egyptian court acquitted former Information Minister Anas el-Fiqqi. It was the latest ruling to clear prominent official from ex-president Hosni Mubarak's era. Several officials from Mubarak's government have recently been acquitted of graft charges, including former Prime Minister Ahmed Nazif, former Interior Minister Habib el-Adly and Mubarak's party secretary Ahmed Ezz.
Friend of Mubarak's heir
Born on 14th of October 1960, Anas Ahmed Nabih el-Fiqqi studied Commerce at the Cairo University. In 1985, he founded a publishing group specialising in encyclopaedias.
Anas el-Fiqqi is a close friend of Gamal Mubarak, the younger of the two sons of Hosni Mubarak. Gamal's preparation to be his father's successor as the next president of Egypt became increasingly evident at the beginning at the 2000s.
On 14th of January 2002, el-Fiqqi was appointed head of the governmental General Authority for Cultural Palaces. Two years later, in January 2004, he became Minister of Youth in the Ahmed Nazif cabinet.
In a reshuffle of Nazif Government on 15th of February 2005, Anas el-Fiqqi was appointed Minister of Information. Established in 1982, the ministry was the successor of the Ministry of National Guidance. The Ministry of Information was in charge of media and information in Egypt, overlooking government-owned TV and radio agencies and formulating general guidelines for broadcast.
During the Egyptian Revolution in 2011, Anas el-Fiqqi was accused of using state television to spread misinformation about the demonstrations and incite fear of protesters and foreigners. He resigned on 12 February 2012, the day after Hosni Mubarak stepped down, and was immediately placed under house arrest.
 Propaganda Minister
In October 2010, Egypt's Media Free Zone ordered the suspension of licences of five television channels after accusing them of violating the terms of their contracts with NileSat, Egypt's main satellite operator, and breaching broadcasting ethics.
Later that month, Egyptian Ministry of Information banned 12 private television channels. NileSat pulled the plug on the television channels on grounds of violating broadcasting licences and warned 20 other channels to obey regulations. Anas el-Fiqqi described the ban as "corrective measures": "These corrective measures are intended to protect the Egyptian and Arab peoples from broadcasters determined to make calls for murder, degradation of religious groups, and the endangerment of people living with serious illnesses – all in pursuit of profit and extremist ideologies." The channels affected by the ban, including Al-Nas and Al-Rahma, were religious channels.
On 25th of January 2011, the Egyptian revolution began. Millions of protesters called for the ouster of the Mubarak regime. Arousing the fury of the protesters, Egyptian state television accused the protesters of attempting to destabilise the country and of being paid to implement foreign agendas. Violence escalated on 2 February 2011 as Mubarak supporters met anti-government protesters.
On 9th of February 2011, 24 rights organizations submitted a report to Egypt's Attorney General to call for the trial of Minister of Information Anas el-Fiqqi, accusing him of being responsible for the death of protesters. The organizations held el-Fiqqi responsible for the "crimes committed in Egypt on Wednesday 2 February which led to the death of 11 people and the injury of 820 others." The report accused el-Fiqqi of using Egyptian Television to spread rumours about the peaceful protesters.
Egyptian Information Minister Anas el-Fiqqi was also credited for closing Al Jazeera offices in Egypt. On 30th of January 2011, the offices of all Al Jazeera bureaus in Egypt were shut down and the accreditation of all network journalists was revoked. NileSat broke its contractual agreement with Al Jazeera's Arabic channel and stopped transmitting the signal.
Arrested, accused and acquitted
After Mubarak's resignation, Anas el-Fiqqi was put under house arrest on 12 of February 2012, arrested on 24th of February and held in custody. However, he was not charged with the death of protesters. He was charged with corruption. Uprooting political corruption was one of the central demands of the Egyptian revolution. El-Fiqqi, like the majority of Mubarak's ministers, the Mubarak's sons and Mubarak himself were indicted for abusing power.
The former Minister of Information was accused of using his position to rake in more than $4 million. El-Fiqqi, who had earlier admitted of having $2 million in Swiss accounts, was investigated on charges of illicit gains. Together with the former head of state television, Usama el-Sheikh, el-Fiqqi was also accused of corruptly giving away the broadcast rights for the Egyptian football league.
Few months after the uprising, in July 2011, Egyptian state television's scheduled programmes were interrupted to show Anas el-Fiqqi and Usama el-Sheikh in court. The state-owned TV channel broadcasted live coverage of the corruption trial. In September 2011, a Cairo court sentenced the former minister to seven years in prison and the former head of state television to five years. In December 2012, el-Fiqqi and el-Sheikh were granted a retrial. In September 2014, the Egyptian prosecutors dropped the corruption charges as "groundless".
El-Fiqqi was released on bail in 2012. In February 2014, an Egyptian court gave him a suspended sentence of one year imprisonment and ordered him to pay a fine of $250,000 over charges of illicit gains and abusing power. The prosecutors appealed and, in January 2015, the Court of Cassation (Egypt's highest court) ordered a retrial of the case. A year later, Anas el-Fiqqi was acquitted on corruption charges.
The times for arrests, public trials and convictions are gone in Egypt. Now, unfortunately, it's time for a new trend: for dropping charges, retrial and exoneration.