Johnnie Carson was supposed to be an independent international observer of Ghana's 2016 electoral process, but he wasn't. Instead, the former US diplomat colluded with Nana, working closely with NPP's foreign consultants Riva Levinson and KRL International. In his 2016 acceptance speech, Nana Akufo-Addo voiced his thanks to "the strong observer mission from our friends of the National Democratic Institute of the United States of America, led by the former U.S Assistant Secretary of State, the well-known diplomat, Ambassador Johnnie Carson." Nana had indeed many reasons to thank Carson for his election. In June 2016, Nana Akufo-Addo hired KRL International, an American PR firm founded and led by Riva Levinson, as a communications and general political consultant for his presidential campaign. The purpose of the contract was to "unseat the incumbent in Ghana's presidential election". One of KRL's core strategies for Nana's campaign was to manipulate international observers. In 2016, Johnnie Carson led the U.S. National Democratic Institute's pre-election and Election Day international observation missions to Ghana. Currently a member of the board of directors of the National Democratic Institute and senior adviser at the United States Institute of Peace, Johnnie Carson headed the Bureau of African Affairs during Hillary Clinton's tenure at the State Department. Riva Levinson and Johnnie Carson have a long and very friendly relationship. Carson was one of the first early readers of Levinson's book on Liberia. Carson recommended the book in a highly positive review: "A must-read – Carson praised Levinson's work – for all those interested in Liberia's recent and turbulent history, and the immense power of friendship and loyalty."
www.amazon.com/Choosing-Hero
And their relationship proved very effective in dealing with Ghana's elections. Levinson met with Carson each time the retired ambassador visited Ghana in 2016. On 10 August 2016, Levinson met Carson in Accra. At that time, Levinson was already running Nana Akufo-Addo presidential campaign, while Carson was leading a pre-election assessment mission. Riva Levinson claimed she "ran into Ambassador Johnnie Carson" in Accra.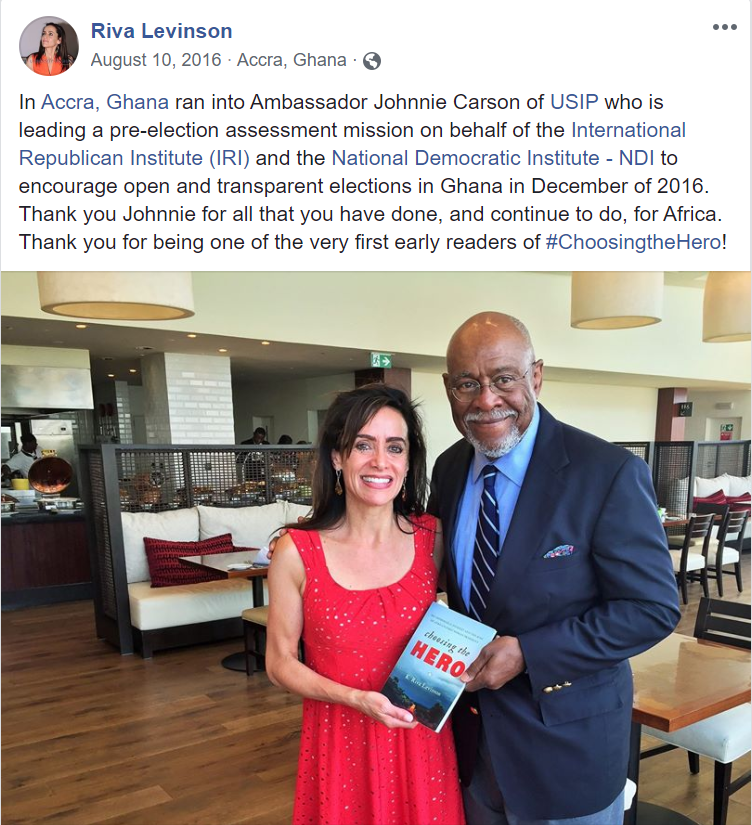 Two days later, on 12 August, the Carson-led delegation presented its "recommendations to ensure open and transparent elections before December 2016 polls". Riva Levinson and her team were invited to take part in the conference.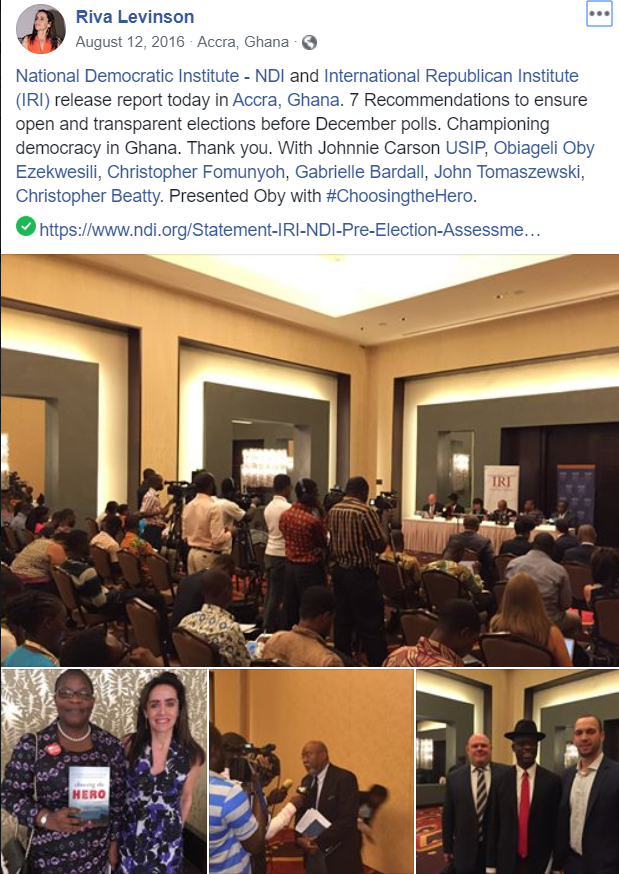 Ghana's presidential and parliamentary elections were held on 7 December 2016. Riva Levinson was accredited as an observer by the NPP. Johnnie Carson was the leader of international observer delegation. Once again they "accidentally" met: Levinson "ran into" Johnnie Carson on the election day.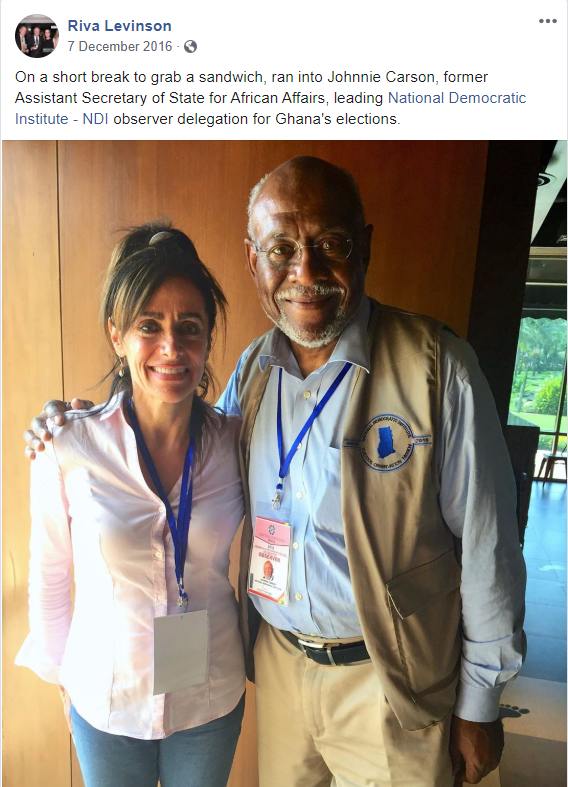 In the picture she posted on social media with Carson, Levinson hid her badge turning it backwards.  She was trying to hide the fact that the leader of the international observer mission was hugging an NPP representative.