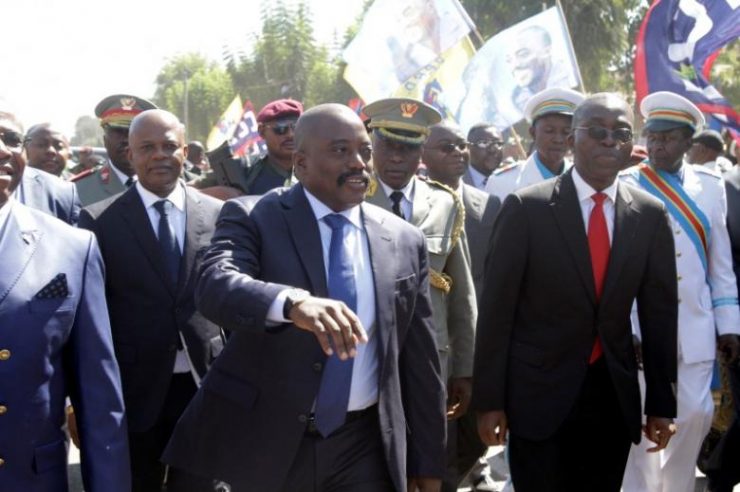 US government sanctions will be expanded to include Joseph Kabila's family and other senior government, security, and intelligence officials in the DRC. The list of sanctions targets includes Kalev Mutond, Alexis Thambwe Mwamba, Emmanuel Andrupiako, Albert Yuma Mulimbi, Moïse Ekanga, Zoé Kabila and Jaynet Kabila. Kabila's powerful allies in business are also in the firing line. They are all parts of Kabila's inner circle, involved in the brutal campaign of repression and members of the Kabila regime's corrupt business structures.
New list of sanctions targets
OSI can confirm that sanctions imposed by the United States Government will soon target other members of Josesph Kabila's inner circle: Kalev Mutond, Alexis Thambwe Mwamba, Emmanuel Andrupiako, Albert Yuma Mulimbi, Moïse Ekanga, Zoé Kabila and Jaynet Kabila.
Kalev Mutond is the head of the national intelligence service (Agence Nationale de Renseigtnements), and one of the most powerful men in the Democratic Republic of Congo (DRC). Mutond is behind much of the country's political repression. In July 2016, he was publicly accused by the presiding judge Chantale Ramazani Wazuri of putting "physical and moral" pressure on her to "go beyond" the scope of the law and convict opposition leader Moïse Katumbi. Also involved in the repression of voices which oppose the Government is the Minister of Justice Alexis Thambwe Mwamba.
Emmanuel Andrupiako – Financial Advisor to Kabila's office, Albert Yuma Mulimbi – head of Gecamines (the state-owned mining company) and president of the Federation of Congolese Enterprises, and Moïse Ekanga – executive secretary of the Office for the Coordination and Monitoring of the Sino-Congolese Programme are some of Kabila's closest allies. They are all members of the Kabila regime's corrupt business structures.
Jaynet Kabila's and Zoé Kabila are parts of their brother Joseph's plan of dynastic succession. They are both MPs and involved in major corruption scandals.
Targeting regimes finances
Joseph Kabila's regime is highly corrupt. Under Kabila's rule, DRC citizens have become one of the poorest people on earth, but the president, his family, and his entourage have prospered.
The sanctions have already hit the regime where it really hurts – their finances.
In September 2016, the Unites States Government imposed sanctions against two senior officials in the DRC, Gabriel Amisi Kumba and John Numbi. Both Amisi and Numbi are Kabila's influential advisors. Both are extremely rich and both played a major role in the brutal campaign of repression.
General Gabriel Amisi (also known as Tango Four), the army commander of the country's western region, has a long record of serious human rights abuses in the DRC. In 2012, the United Nations accused him of selling arms and ammunition to illegal armed groups known to commit atrocities.
General John Numbi (also known as Numba) is the former National Inspector for the Congolese national police. He used violent intimidation to secure victories for pro-Kabila gubernatorial candidates in the provincial elections. In March 2016, Numbi threatened to kill opposition candidates who did not voluntarily withdraw from the race. On the same day three candidates withdrew.
Earlier in June 2016, US imposed sanctions on Célestin Kanyama (also known as Spirit of Death), police commissioner of the capital, Kinshasa.
A desperate regime
Kabila's associates realise the consequences of the US sanctions. They know that the Office of Foreign Assets Control (OFAC) is going to hunt them down and they are going to lose their money. So they reacted desperately.
First, on 16 September 2016, they sent Barnabe Kikaya, Kabila's diplomatic senior advisor, to Washington. Kikaya tried to mislead the US officials insisting that Kabila was not seeking to extend his term and claiming that sanctions could hurt the talks between the government and opposition. Kikaya "pleading mission" failed and twelve days later, Amisi and Numbi were added to the OFAC's Specially Designated Nationals list.
Then, on 29 September, one day after the two men were blacklisted, the DRC Government lashes out, accusing the US Government of sowing "chaos". Kabila's government questioned "US authorities' logic and motivations" and called the sanctions "shameless initiatives".
But criticizing the Unites States and the European Union (whose decision to impose sanctions is imminent) won't help Kabila's associates to save their money.