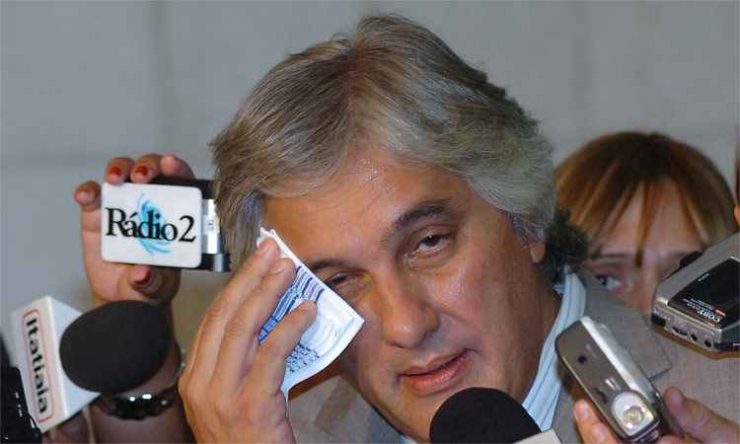 Senator Delcídio do Amaral, one of Brazil's most influential MPs, the government's leader in the upper house of Congress, was arrested on 25 November 2015. Amaral became the first sitting senator arrested in Brazilian history.
The 61 years old senator was arrested under Operation Car Wash covering allegations of corruption at the state-controlled oil company Petrobras.
On 25 November, Delcídio do Amaral was put in custody at the Federal Police building in Brasília following a unanimous decision of the Supreme Court. On the same day, the Senate decided to maintain the arrest of Amaral.
The ground for the arrest was a recording made by Bernardo Cerveró, son of former Petrobras Director and Operation Car Wash convict, Nestor Cerveró. Bernardo Cerveró handed over to prosecutors an audio recording of a meeting in which Amaral proposes the monthly payment of some $13,000 to Nestor Cerveró's family members and an escape plan to help him flee the country. Amaral's intention was to buy Cerveró's silence in the Public Prosecutor's Office investigation.
Amaral was released on February 18; he was only allowed to leave his home to work at the Senate. He immediately took a medical leave and announced he was leaving the party after more than a decade of membership.
Information about Amaral tacking a plea bargain was reported shortly after his release from custody.
The 400 page testimony
On 3 March 2016, IstoÉ, a Brazilian weekly magazine, published an article according to which Delcídio do Amaral's release after over 80 days in jail was conditional on him agreeing to testify against other politicians involved in the Petrobras scandal.
As former Minister of Mines and Energy and director of the state-owned electricity company, Amaral knows a lot about the public energy sector in Brazil. Being a former Senate leader for the governing Workers' Party and holding good relationships with every political group, Amaral knows a lot about Brazilian top politicians.
And he has started to talk.
After sending threatening messages from jail to some of his colleagues in the governing base, Amaral struck a plea deal with the chief prosecutor's office in exchange for leniency.
After four days of testimony in February 2016, Amaral's allegations were gathered in a 400 page document.
On 15 March, the Federal Supreme Court validated the plea bargain, accepted the testimony given by the senator and decided to remove the secrecy on the case. The 400 page testimony became public.
Involving President Rousseff
Delcídio do Amaral's testimony includes incendiary allegations against Brazil's president, her predecessor and other prominent public figures across the political spectrum.
The investigation into Petrobras aims to ascertain a money laundering scheme suspected of moving more than $3 billion. The current Brazilian president, Dilma Rousseff, was Minister of Energy and chairman of Petrobras during the years when much of the alleged corruption is believed to have taken place. However, both Rousseff and her predecessor, former president Luiz Inácio Lula da Silva, had escaped suspicion in this case until Amaral's testimony.
Senator Amaral, who was previously a close ally of Rousseff, accused both Rousseff and Lula of being aware of corruption at the Petrobras. Amaral alleged Rousseff knew about a scheme to buy a refinery in the US at an inflated price. He also told prosecutors that Rousseff actively tried to hamper the investigation by appointing a high court justice in a bid to secure the release of some Operation Car Wash defendants.
Amaral also accused former president Luiz Inácio Lula da Silva of ordering him to make payouts to another key operator of the Petrobras scheme to protect a close friend.
Amaral, too, has a recording
 Amaral was arrested after he had been recorded trying to pay for the silence of a defendant in the Petrobras investigation.
Now, Amaral's most damaging allegations are based on another recording. The senator gave the prosecutors an audio file of a conversation between the Minister of Education, Aloizio Mercadante, and Amaral's personal secretary. According to Amaral, Mercadante, a Worker's Party veteran and close confident of Rousseff, offered financial assistance in order to divert him from the idea to accept a plea bargain. The minister warned Amaral to "remain calm and think about the tack he would take". "If he becomes an agent of destabilization, said Marcadante in the recording, he'll have a monumental responsibility over his shoulder".
Amaral said he assumed Mercadante, President's right arm, was acting as Rousseff "emissary".