On 18 July 2016, thousands of people gathered in Buenos Aires to commemorate the 22nd anniversary of the 1994 bombing of the Argentine Israeli Mutual Association (AMIA). Holding up pictures of the 85 people who died in Argentina's deadliest terror attack ever, they were calling for those responsible, including former Iranian Foreign Minister Ali Akbar Velayati, to be brought to justice. Three months later, in October 2016, a Belgian MP was receiving gifts from the Interpol-wanted Velayati. The name of the Belgian MP is Dirk Van der Maelen (SP.A) and he is currently chairman of the so-called Kazakhgate Commission.
Van der Maelen met with a wanted terrorist
"
It's our job as a public representative to serve the public interest. I'm not going to be restricted
", Dirk Van der Maelen reacted on 24 May 2017 when he was summoned for his improper behavior as chairman of the Parliamentary Inquiry 
Commission
. The commission was established on 1 December 2016.  In October 2016, Van der Maelen was "
serving public interest
" by shaking hands with an Iranian official who is on Interpol wanted list for his role in 1994 AMIA terror bombing.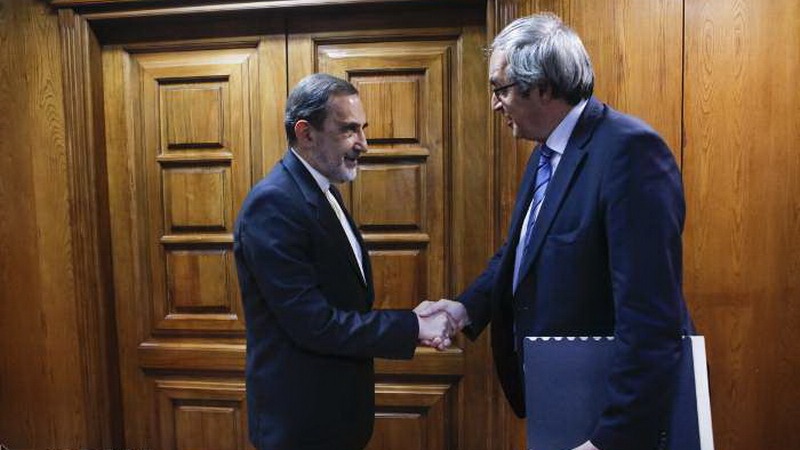 Dirk Van der Maelen met Ali Akbar Velayati in Teheran on 2 October 2016, while leading a Belgian parliamentary delegation. Currently a "
senior advisor to Leader of the Islamic Revolution Ayatollah Ali Khamenei,
" Velayati was Iran's foreign minister at the time of the AMIA bombing. He and four other former Iranian officials, including Ayatollah Ali Khamenei, were formally accused in October 2006 by the Argentine prosecutors of orchestrating the bombing. Velayati has been on Interpol wanted list since March 2007. According to the prosecutors, Velayati was one of the participants at the meeting of the Iranian Supreme Council for National Security at which the decision to go ahead with the strike against the Jewish community centre was made. The mission was given to the Iran-sponsored Hezbollah militia, with Iranian intelligence providing full support. On 18 July 1994, a Hezbollah suicide bomber drove a car bomb into Argentine Israeli Mutual Association (AMIA) building located in a commercial area of Buenos Aires, killing 85 people and injuring more than 150 others.
How to become a star in the Supreme Leader's media
For a few days, Dirk Van der Maelen was IRIB's star. IRIB is The Islamic Republic of Iran Broadcasting, the Iranian media corporation which holds the monopoly of domestic radio and television services. Its head is appointed directly by the Supreme Leader, Ayatollah Ali Khamenei. Iranian TV (Vision of the Islamic Republic of Iran Network) and all the official news outlets extensively covered the 5-day visit to Teheran of the Belgian parliamentary delegation headed by Dirk Van der Maelen. Presenting Van der Maelen as "
a senior member of Belgium's parliamentary Assembly
", Iranian officials and the governmental media used his visit for propaganda purposes, especially in support of Iran's policy on Syria. (Along with Russia, Iran backs Bashar al-Assad regime.) "
US kills innocent people in Syria
", Ali Akbar Velayati said during his meeting with Van der Maelen. The Supreme Leader's advisor accused US and its allies of "
supporting terrorism
" and creating "
terrorist groups
" to achieve political objectives in the region. "
Acknowledging legal government of Bashar al-Assad
" and "
stopping foreign powers' interference
" are "
fundamental principles
" for ending the crisis in Syria, Velayati told Van der Maelen. Other Iranian officials shared with Van der Maelen their foreign and domestic policy agendas: West's general negligence of the Zionist crimes in Palestine, Iran's profound respect for human rights, US' and its regional allies' lack of will to uproot terrorism, West's policy on strengthening terrorist group, and so on. For his part, Dirk Van der Maelen explained that Belgian Parliament "
shares Iran's policy in Palestine, Syria, and Yemen
", adding that "
the
Belgian Chamber of Representatives and government hail development of relations with Iran.
" He also described Iran as an "
important
" and "
effective
" country in the region.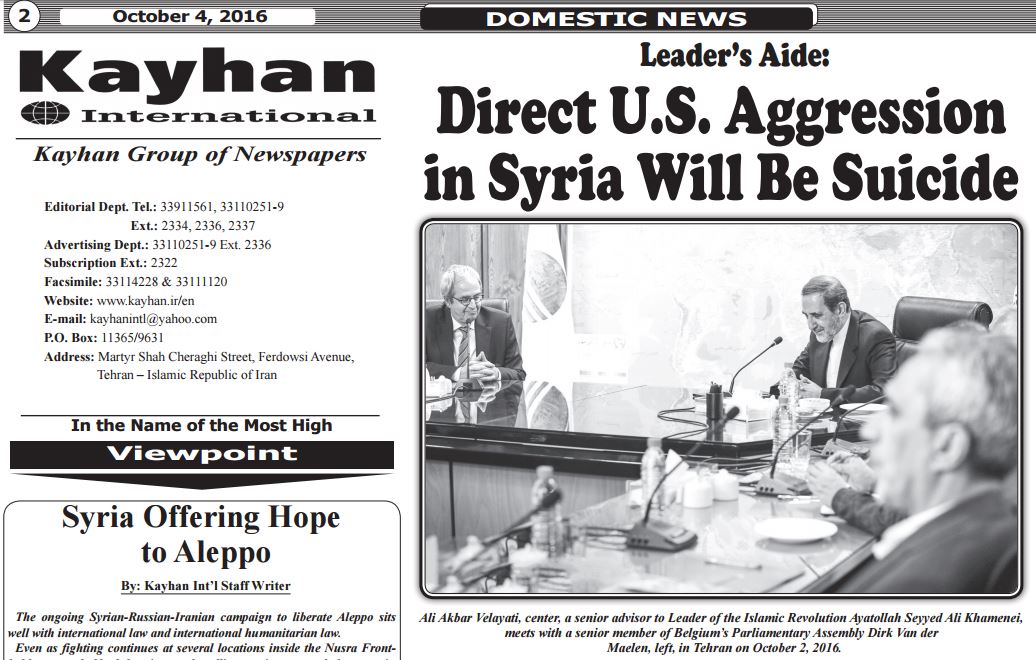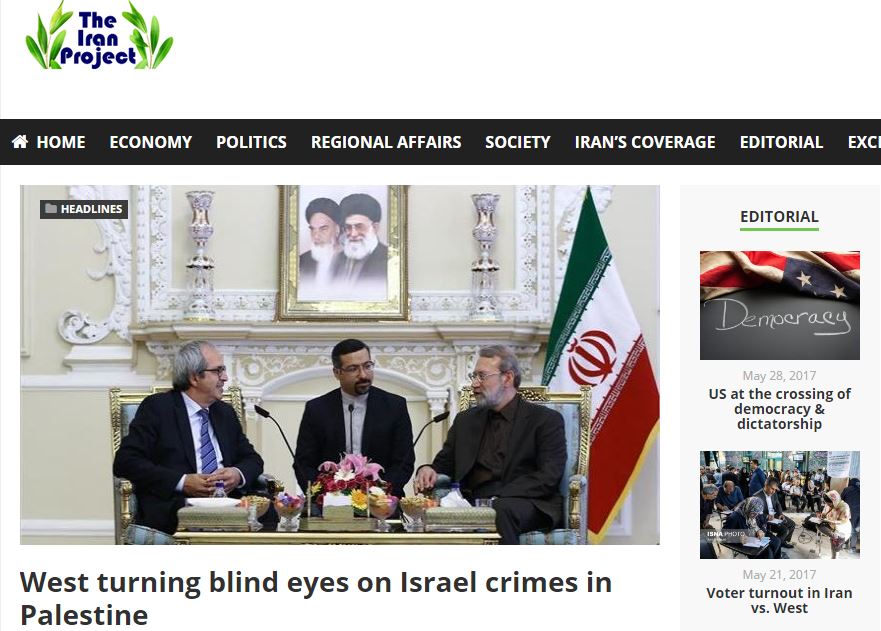 And how to become a media sensation in your own country
Two weeks after his meeting with Dirk Van der Maelen, Ali Akbar Velayati traveled to Iraq. On 20 October 2016, Argentina issued another extradition warrant for the Iranian official over the 1994 deadly bombing of Jewish community centre in Buenos Aires. An Argentine investigating judge asked Baghdad "
to extradite Velayati, who is on Interpol wanted list
". By that time, the Syrian crisis and "
the Iran-Belgium ties
" were no longer on Dirk Van der Maelen's agenda. The socialist MP had found a way to become a media sensation in his own country, too. He was pushing for the establishment of a Parliamentary inquiry commission investigating the circumstances leading up to the adoption of the Belgian enlarged settlement law. In December 2016, Van der Maelen became the president of the commission. And that despite the fact that back in 2009 he was the vice-president of the parliamentary commission that unanimously recommended the introduction of the extended criminal settlement procedure. So, how responsible is Dirk Van der Maelen? How suited is he to chair a parliamentary inquiry commission? Does he really serve "
the public interest?
" Shouldn't he be made accountable for his actions? After all, just nine months ago he was in Teheran supporting Iran's (and Russia's) policy in the region and receiving gifts from a wanted terrorist.