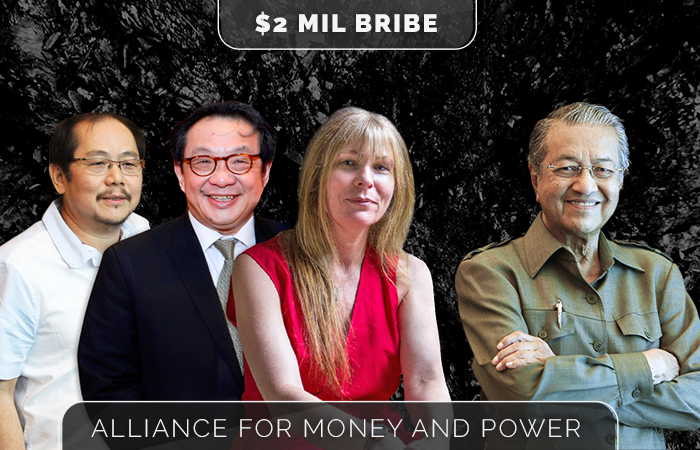 There has always been a big question mark over why someone would be willing to pay a world record-breaking figure of $2million for a story, and how someone had the means to do it. Unless, of course, there is a clear motive, and benefit, behind such an offer and a group of people willing to fund it.
Documents in the public domain show that in February 2015 Malaysian media owner Datuk Tong Kooi Ong and British blogger Clare Rewcastle Brown offered to pay $2million for stolen data relating to 1MDB.
The offer was made without having seen what was in the data. So what convinced them to make such an offer? And how were they put in touch with the seller?
The answer lies in details that have emerged of a meeting in London to plan to oust Malaysian Prime Minster Najib Razak. These details directly link the $2million offer and Rewcastle Brown and Tong with the plan to oust Najib Razak. A fact the buyers themselves confirmed.
5.1 Meeting in London
 Reports details how the meeting the plan the downfall of Najib Razak was held in London in 2014 and was chaired by former Malaysian Prime Minister Mahathir Mohamed.
At the meeting it was decided that a global campaign would be directed against Najib Razak. According to the reports, the idea was to wage a war of perception against the government, especially focussed on the economy. It was decided that 2 billion ringgit ($461million) would be put behind the campaign.
A large proportion of that figure – RM600million – was going to be put behind a worldwide media campaign.
Reports detail that those linked to the meeting include:
Francis Yeoh – Managing Director of YTL Corporation Berhad
Robin Tan Yeong Ching – CEO Of Berjaya Corporation Berhad
Ananda Krishnan – CEO of Usaha Tegas Sdn Bhd
Justin Leong – Head of Strategic Investments at Genting Group
Kamal Siddiqi – Owner of Kamkorp
Tun Daim Zainuddin – one of Mahathir Mohamad's former ministers
Khairuddin Abu Hassan – a former UMNO official
http://www.malaysia-today.net/
http://www.malaysia-today.net/
5.2 Links to Tong and Rewcastle-Brown
 So how does this relate to Tong and Rewcastle's $2million offer?
Public documents confirm that it was not Xavier Justo – the seller of the stolen data – who approached Rewcastle Brown and Tong but that it was Rewcastle Brown who in fact approached Justo to buy the stolen data.
Written Confession of Xavier Justo, 26 June 2015:
"When the blackmail didn't work I tried to find a buyer for the data and after a while I was contacted by Clare Brown."
So how did Rewcastle Brown know to contact Justo?
It was Kamal Siddiqi, a close associate of former Prime Minister Mahathir Mohamed and attendee of meetings to oust Najib Razak, who approached Rewcastle Brown and put her in touch with Justo in 2014 to buy the stolen data. The British blogger and Tong made their $2million offer for the stolen data in February 2015.
A fact confirmed in her own words:
'KS [was] the guy who originally approached for you' (Clare Rewcastle-Brown to Xavier Justo, Whatsapp. 26 April 2015).
 Rewcastle Brown is also linked to the meeting to oust Najib Razak through another close friend – Khairuddin Abu Hassan. Khairuddin, a former UMNO official met in London on 1 July 2015, the day before the Wall Street Journal and the Sarawak Report began their coverage about donations to Najib Razak. A fact confirmed by their own social media accounts.
http://www.malaysia-today.net/
5.3 Motives detailed in their own words
Rewcastle Brown:
"I will drink some when Najib is done!' (WhatsApp, 16 June 2015)
As confirmed by Justo's confession:
"She [Clare] said she wanted to bring down the Prime Minister, Najib Razak" (Xavier Justo, Confession 29 June 2015)
Tong:
"Remaining sum will be executed [to Justo] on these terms 1) nothing is to be published about how money is used to influence us n middle east goats against anwar ibrahim 2) all future stories that are based on info contained in the transaction must get our agreement" (Ho Kay Tat [Tong Kooi Ong], WhatsApp, 19 March 2015)
As confirmed by Justo's confession:
"Tong stated he didn't want to involve the Saudis or PetroSaudi which was important to me. He said that this was an internal Malaysian matter only" (Xavier Justo, Confession 26 June 2015)