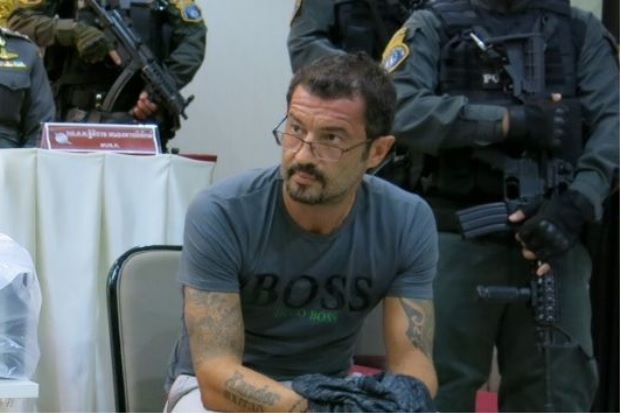 | | |
| --- | --- |
| | $2million is a lot of money to pay for a story – probably a world record. But not, it would seem, if you are a UK blogger that offers "a fairer future in Sarawak, Malaysia". (http://www.sarawakreport.org/about/). In this unique case, you can afford to offer $2million for information contained in stolen files. |
The name of this privileged blogger is Clare Rewcastle Brown. Born in the former British Crown Colony of Sarawak, she failed to make it as a journalist either at the BBC or ITV and has a track record of running stories which are not true. She became a blogger, founding, in 2010, sarawakreport.org.
Clare Rewcastle Brown is married to media strategist Andrew Brown, the younger brother of Gordon Brown, former British Prime Minister.
1.1 A hysterical obsession with the Malaysian PM
Since its beginning in 2010, Rewcastle Brown's Sarawak Report's only real targets have been Najib Razak, the Malaysian Prime Minister, and his Government. On February 2010, she started what would become a long running and persistent campaign regarding 1Malaysia Development Berhad (1MDB), a state owned investment fund, whose advisory board is headed by the PM Najib Razak. The stories have come from a supposed 'treasure trove' of information contained in thousands of files stolen from a 1MDB's joint venture partner.
The Open Source Investigation Group (OSI) has documentary evidence (WhatsApp conversations, written confessions, judicial documents) proving that Clare Rewcastle Brown obtained the files after offering to pay $2milion for them.
1.2. Theft and blackmail
On 21 June 2015, Swiss national Xavier Andre Justo was arrested in Thailand for an attempt to blackmail his former employer, PetroSaudi International. In 2009, PetroSaudi, a Middle-East based oil exploration company, owned by a son of the late king Abdullah, ruler of the Saudi Arabia at that time, and 1MDB established a joint venture.
Justo, a former Head of IT at the London office of PetroSaudi, left the company in 2011 with around 90 gigabytes of information on hard disk. Justo tried to blackmail his former employer with the information. His attempt failed.
OSI have seen the confession made by Justo to the Thai police. According to this document, Justo gave the stolen documents to Rewcastle Brown, after a deal on the sale of the documents was reached in February 2015, in Singapore.
1.3 Blogger offers millions of dollars for the stolen data
Justo was contacted by Clare Rewcastle Brown in 2014. He met the blogger in Bangkok. Rewcastle Brown told Justo that she was experienced in dealing with stolen data without anyone finding out and promised him at least a couple of million for the stolen information.
Written Confession of Xavier Justo, 26 June 2015:
"When the blackmail didn't work I tried to find a buyer for the data and after a while I was contacted by Clare Brown. This was in May or June 2014. I know that she is a journalist with Sawarak Report and a relation of Gordon Brown, a UK former prime minister. I met Clare Brown in Bangkok about 10 days after she contacted me. She told me that anything I had involving PetroSaudi's transaction with 1MDB would fetch a good price and agreed she would facilitate the sale of the stolen data to others.
She promised me I would make at least a couple of million from this sale. During the next six months I kept regular contact with Clare Brown."
1.4 The $2million promise
On February 2015, Rewcastle Brown contacted Justo to say that she arranged for the sale of the stolen data to Datuk Tong Kooi Ong. Tong, a Malaysian media tycoon, is the chairman of The Edge Media Group, the publisher of The Edge Financial Daily, a financial newspaper, and The Edge Weekly. Justo agreed to sell for $2milion. Tong offered the money without having seen what really was in Justo's files. Both Tong and Rewcastle Brown were only interested in 1MDB transactions. Justo gave a copy of the documents to Tong and another to Rewcastle Brown.
Written Confession of Xavier Justo, 26 June 2015:
"In Feb 2015 Clare arranged a meeting at which she was present with Tong Kooi Ong and the editor of one of his newspapers Mr Ho Kay Tat. The meeting took place in the Fullerton Bay Hotel in Singapore. During this meeting I agreed to sell all of PetroSaudi's stolen data to Tong for the sum of 2 million USD. I originally asked for 3 million USD and this was negotiated down to the two million. We only discussed the content of the data at a very high level as they said they were only interested in the 1MDB transaction and I hadn't worked on it. So I showed them I had a lot of documents and emails from the 1MDB transaction but I couldn't explain how the documents worked, or what they meant, and I couldn't give them any background to the transaction. /…/ It was agreed by Tong that I would hand him the data at this meeting and he would pay 2 million USD the following day. /../ Then I gave Ho Kay Tat PetroSaudi's stolen data contained on a stolen hard drive. Tong's IT team who were present took it off him checked the data and copied it for Tong. I handed a second hard drive to Clare Brown. A few days later Clare informed me that the copy was corrupted and I sent her a further copy on a memory stick using DHL to London. "
1.5 Rewcastle Brown tried to 'launder' the US$2 million to hide Tong's involvement
The deal was followed by lengthy discussions on how Justo would be paid. At one point Clare Brown took the lead. OSI is in possession of court documents including a three-month long WhatsApp conversation involving Rewcastle Brown, Tong and Justo.
According to these documents, the blogger offered to help Justo in the attempt to funnel the US$2 million. First she attempted to use SJS Limited, a Singapore-based company to channel the funds. Clare Rewcastle Brown's Brother, Patrick, is one of SJS's directors.
Clare Rewcastle Brown, WhatsApp, 19 March 2015:
"The guy wants to charge my brother €67,000. I am sure he will do without cheating."
She later proposed funneling the US$2 million through a charity – the Swiss-based Bruno Manser Fund,
Clare Rewcastle Brown, WhatsApp, 22 Aprilie 2015:
"He can pay Bruno Manser Fund if he likes."
In May, Tong offered to pay through a British Virgin Island-based company,
Clare Rewcastle Brown, WhatsApp, 19 May 2015:
"He wants to pay through BVI (British Virgin Island) company!! It will look horrible in my published accounts! I will talk it through face to face. Better than dealing with awful KT."
"They will say I criticise BVI companies but use them myself. Sigh."
"I am campaigning to prevent these tax havens. They will call me hypocrite. I will not make a fuss till I see them and can work out a solution with Tong directly."
They continue to find a way to pay for the stolen files, despite concerns over tax laws and money laundering.
Clare Rewcastle Brown, WhatsApp, 26 May 2015:
"They are now offering to do me a donation! I would prefer this but am worried about tax implications etc."
Clare Rewcastle Brown, WhatsApp, 27 May 2015:
He is saying don't get a lawyer just let us pay anonymously into your bank account as a donor from BVI! I will get the money laundering legislation straight onto me'
According to Justo's written confession, Rewcastle Brown eventually offered to receive the $2million from Tong herself and send Justo a monthly amount disguised as a consultancy fee via the Sarawak Report.
Written Confession of Xavier Justo, 26 June 2015:
"The latest proposal was to pay me using Clare Brown. We all agreed to do this. It would involve Tong paying her the 2,000,000 USD in the UK and her paying me a monthly amount disguised as a consultancy fee via the Sarawak Report. She proposed that I opened a news desk for the South East 2 Asia Region for which she would first pay me 350,000 USD, followed by a further 1,250,000 USD later."

1.6 Rewcastle Brown and Tong dealt with stolen property
When Justo was arrested in June 2015, he declared: "So far I have received no money." On 24 July 2015, one month after Justo's arrest, Tong publicly confessed that he offered a $2million payment in return for documents. He also admitted that he was in possession of the stolen data.
Clare Rewcastle Brown continues to deny that she had any involvement in any transaction having to do with the stolen files.
$2million is a lot of money to pay for a story. Dealing with stolen data is a criminal offence in many jurisdictions.
This is a big risk for someone to take. So wha
t was the motivation to take this risk? And who stands to gain?