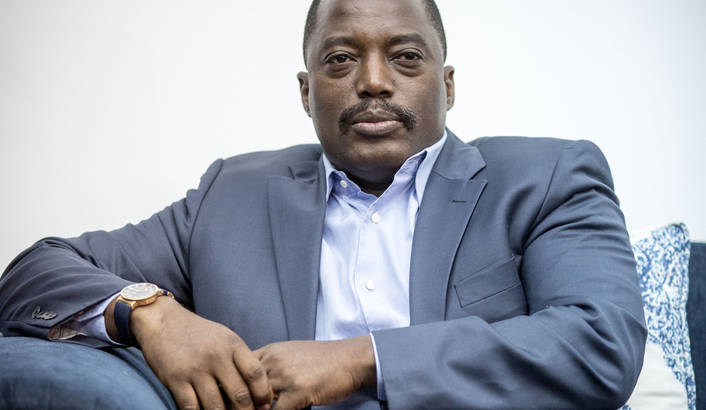 President Joseph Kabila has broken his country's Constitution: there won't be presidential elections in the Democratic Republic of Congo in 2016. A corrupt and incapable president refuses to cede power. With the people set against him and an unambiguous two-term limit in the Constitution, Kabila clings to power using violence and repression.
A corrupt, oppressive and incompetent government
The Democratic Republic of Congo (DRC) is one of the least developed countries in the world and its citizens are among the poorest people on earth. And that is despite its vast mineral wealth – DRC is one of the richest countries in the world regarding natural resources – and huge size – DRC is nearly two-third the size of Western Europe and has a population of almost 80 million.
One man is responsible for DRC's catastrophic situation. His name is Joseph Kabila. He has been ruling the Democratic Republic of Congo with an iron fist for 15 years.
Born in 1971, Joseph Kabila took the presidential office in 2001, succeeding his father Laurent Kabila after his assassination.
Millions have died from hunger, disease and conflict since Kabila family seized power. Civil war created almost 450,000 refugees, but Joseph Kabila has managed to remain in office due to his highly corrupt and oppressive regime with weak institutions and over-centralised government.
Joseph Kabila was elected president in fraudulent polls in 2006 and again in 2011. But he is facing a new problem: According to the Constitution of the Democratic Republic of Congo "The President of the Republic is elected by direct universal suffrage for a term of five years which is renewable only once."
Kabila's constitutionally limited two terms in office come to an end in December 2016.
Clinging to power
Joseph Kabila has no intention to abide by the Constitution. Since a formal third presidential term is constitutionally impossible, Kabila has been deploying various tactics to delay the elections, hoping that this will allow him to stay in power beyond his second term.
In January 2015, the lower house of Congo's parliament passed an electoral law requiring a census before the next elections – a massive exercise in a country like Congo. It was an obvious tactic to postpone the elections, and after huge protests the upper house of the parliament eliminated the census requirement from the bill.
Kabila's government is deliberately delaying the vote. There is no real preparation for the election: little of the budget has been funded, and no steps have been taken to register more than 5 million youth who have come of age since the last national election in 2011. A timetable prepared by DRC's electoral commission in January said it would take up to 16 months to revise the voter register prior to elections, making a vote in 2016 impossible. In May 2016, the DRC's ambassador to the US stated that "logistical and financial problems had to be resolved before any polls".
In May 2016, Congo's Constitutional Court ruled that Kabila would stay in power until elections could be held.
Growing opposition
Following Kabila's attempt to change the electoral law in January 2015, protests led by students at the University of Kinshasa broke out. Thousands took to the streets of DRC's major cities.
In November 2015, a one-day strike left the streets of Congo's major cities empty. The strike was organized by a coalition of opposition parties and civil society groups as a protest against Kabila's attempt to unconstitutionally stay in power.
In May 2016, Moïse Katumbi, a popular political figure, announced his intention to run in the presidential election. A former provincial governor and owner of Congo's most successful football club, he accepted the nomination of three opposition parties to be their candidate for president. Katumbi urged Kabila to step down from power once his second term comes to an end.
Nationwide protests erupted in May 2016 after the country's highest court ruled that Kabila could remain in a caretaker capacity beyond the expiry of his second term in December.
The political repression
Kabila has responded with violence and repression, his security forces killing dozens of protesters. Politicians and activists who challenged the idea of an extended presidency have been jailed, beaten and tortured
Opposition leaders are under attack and Katumbi has become Kabila's main target. Under Congolese law, a candidate cannot take part in the presidential race if he has been found guilty of a crime. In a judicial masquerade, Congo's government suddenly decided to prosecute Moïse Katumbi, using ridiculous charges such as "mercenary activities" and "stealing a house". Katumbi was first put in house arrest, and then pushed into exile.
The Democratic Republic of Congo is the fifth least democratic country in sub-Saharan Africa, a region where authoritarian and hybrid regimes prevail. Is it possible that this will change, and the rule of ridiculous and antidemocratic leaders will finally come to an end? Is it possible that the DRC will be the first to break this cycle?