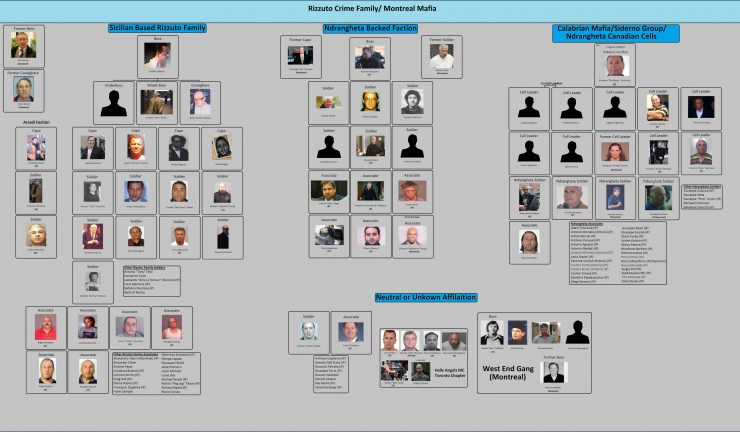 One of the most powerful mafia organizations in history, the Rizzuto family is a crime syndicate based in Montreal, Canada. The family territory covers most of southern Quebec and Ontario.
The Rizzutos have dominated organized crime activities in Montreal since the 1970's, but their reign may be coming to an end. The family has been incapable to find new leadership since the death of once all powerful boss Vito Rizzuto and the dismantling of the crime syndicate's old guard.
Vito Rizzuto
Until recently, the Rizzuto family was considered the strongest crime family in Canada. Their leader was Vito Rizzuto. The Rizzutos were part of the Sicilian mafia which took control of the Montreal underworld from the Calabrian mafia faction during an internal war in the 1970's.
Vito Rizzuto reigned atop Canada's criminal underworld for more than 30 years, surviving so long because of his intelligence, reputation and charisma. He settled disputes and cultivated strong relationship among the various Montreal's crime groups. He was a respected mediator and worked together with biker gangs, Mafia clans and drug cartels.
In January 2004, Vito Rizzuto was arrested and extradited to New York. He pleaded guilty to involvement in the 1981 gangland killings of three rivals from the Bonanno crime family and was sentenced to 10 years.
While Vito Rizzuto was in prison, former allies turned against him in an attempt to take over the drug trade in Canada. The body count mounted: Vito's father, son and brother-in-law were killed.
Vito Rizzuto was released from prison and returned to Canada in October 2012. He re-established control of his crime syndicate, but in December 2013 the 67-year-old mafia boss died in Montreal from complications of lung cancer.
Agostino Cuntrera
Agostino Cuntrera was among the high ranking members of the Rizzuto family lost in the mafia war started during Vito's imprisonment in the US. Close associate of Vito Rizzuto and thought to be his possible successor, Agostino remained loyal to the Rizzuto organization when it was attacked in 2009 – 2011.
Born in Sicily in 1944, Agostino Cuntrera was the grandson, son, nephew and cousin of leading Mafia members. In 1964, Cuntrera moved to Canada and became close to Nicolo Rizzuto. Nicolo was Rizzuto family patriarch and Vito's father.
Cuntrera played a major role in the 1970's internal war against the Calabria faction led by family boss Vic Cotroni. In 1978, the violent Mafia war resulted in the death of Paolo Vito (capo and underboss for Vic Cotroni) who was gunned while playing cards. In the aftermath, Agostino Cuntrera was arrested, charged with organizing the murder and sentenced to 5 years.
A respected man in Montreal, Agostino Cuntrera owned businesses in the city and its surroundings. He was one of the most powerful Rizzuto family associates and part of the ruling panel during Vito's absence.
Although the police made clear to Cuntrera that he was in danger and should leave the city, he chose to stay. He bought himself an armoured car and had a bodyguard by his side. On 29 June 2010, Agostino Cuntrera was gunned down, together with his bodyguard, outside one of his supply warehouse in Montreal. He was shot through the head and died instantly.
Poncho Cuntrera
The death of Vito Rizzuto created a power void in the Montreal underworld. With many of its high ranking members, including Agostino Cuntrera, killed in the recent internal war, Canadian Mafia entered in a state of disarray. With no one able to stand out as an uncontested leader, a group of mobster from a younger generation took control of the organization and brought some stability.
Agostino Cuntrera's son, 47-year-old Liboro (Poncho) Cuntrera, has long been considered one of the new emerging leaders in the Rizzuto family. According to Canadian media, in an effort to prevent addition internal wars the Montreal Mafia has created a "management table". Poncho Cuntrera has been part of this six-member committee that assumed control of the Rizzuto crime family.
But on 11 May 2016, the Combined Forces Special Enforcement Unit (CFSEU), British Columbia's anti-gang agency, launched an operation against the Montreal Mafia. Included among the people CFSEU expected to arrest was Pancho Cuntrera, charged with drug trafficking.
Cuntrera was vacationing in Italy when the CFSEU set out to make the arrests. However, he apparently made contact with Canadian police and agreed to turn himself in when he returns.