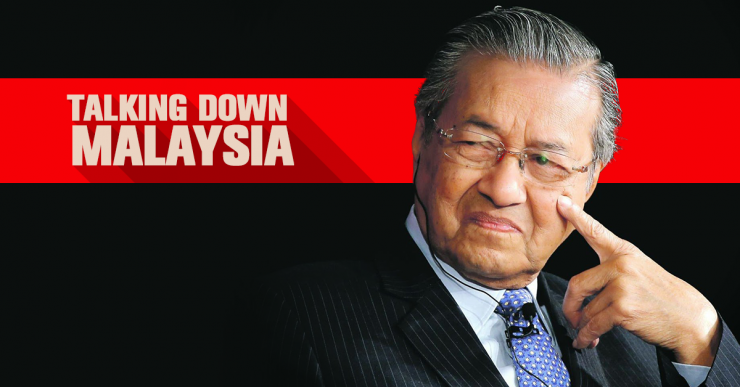 Malaysia's former PM Mahathir Mohamad is facing a growing backlash for attacking his own countrymen and talking down Malaysia.
For more than a year now, Dr Mahathir has plotted to oust Najib and tried to line up his son for Prime Minister. But his plot has backfired as his repeated accusations against Najib have been proved wrong and he has been forced to step down from positions of influence.
Now, his attacks on Malaysia and its economy – again exposed as false by official figures and international institutions – have further exposed how he will risk hurting his countrymen while he pursues his personal agenda.
Donation
Dr M launched his plot against Najib with his central accusation that a donation from the Saudi royal family was in fact money from state fund 1MDB, saying: "The money in his personal banking accounts is from 1MDB. I am certain that it's not a donation from an Arab." http://www.freemalaysiatoday.com/
But this has been proved completely false with numerous investigations, the Malaysian Attorney General and even the Saudi Foreign Minister confirming the money was a donation from the Saudi royal family. http://www.reuters.com/
The Swiss Attorney General even went so far as to confirm that Najib was not under investigations, despite efforts by Dr M and his crony blogger Clare Rewcastle Brown to claim otherwise. http://www.channelnewsasia.com/
Talking down Malaysia
As his plot started to unravel to unravel, Dr M focused his attacks on the country's economy – damaging prospects for Malaysians, in his pursuit of Najib.
Mahathir claimed: "We are not having a good economy. We are not growing as fast." http://thediplomat.com/
Yet official figures show Malaysia's economy grew more than expected in 2015, growing by by 5% and is expected to continue growing. http://www.ft.com/
While IMF chief Christine Lagarde praised Malaysia's economic 'growth and vibrancy'. http://www.themalaymailonline.com/
Dr M also claimed: "At the moment I think if the prime minister is not there, [investor] confidence will return." http://thediplomat.com/
Yet figures prove that foreign inflows were key in making Malaysia markets consistently strong. http://www.thenational.ae/
And this was before he went as far as calling for foreign intervention in Malaysia – the biggest insult to his countrymen. http://www.straitstimes.com/
Increasingly toxic
These attacks on his country came after he turned his back on the party he led for 22 years. Mahathir quit UMNO and founded an opposition alliance, the 'Citizen's Declaration'. But even the anti-government NGO Bersih 2.0 said it would neither sign nor donate funds to Mahathir's self-serving initiative.
http://www.themalaymailonline.com/
UMNO information chief Annuar Musa said the declaration showed Mahathir's actions did not reflect a struggle for the party, but rather his personal grudges, interests and agenda. https://www.malaysiakini.com/
Damaging Umno
Despite quitting the party, Mahathir claimed: "I am still, at heart, UMNO."
As with his other allegations, the claim was exposed as false, with Minister Salleh Said pointing out: "Mahathir hides behind the excuse that whatever he is doing he is doing so for the good of Umno. However, there is nothing that he is doing that is good for Umno. How can going into partnership with Lim Kit Siang, the man who dislikes Umno the most, and the rest of the opposition, be considered for the good of Umno?" http://sskeruak.blogspot.co.uk
Stop the lies
 Now, several members of the Senate have urged the former prime minister to apologise to Prime Minister Najib Razak and the people for his false allegations. Senator Megat Zulkarnain Omardin said "Enough is enough. If there is a personal problem, settle it personally…This game of political persecution brings the greatest harm," he said. https://www.malaysiakini.com/
So just how far will Mahathir go in risking Malaysia's economy in his bid to regain power?