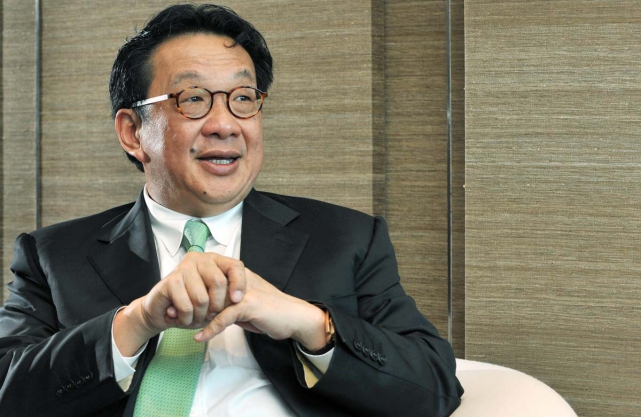 By his own admission, Malaysian businessman Francis Yeoh built a business empire on having 'friends in powerful places'.
https://www.youtube.com/watch?v=67RGyacLAtw
His company YTL became a virtual monopoly. But since Najib Razak has come to power, Yeoh's company has struggled.
During the course of 2015, Yeoh attends a 'dinner of tycoons' with businessman holding similar grievances against the current Malaysian Prime Minister. Attendees at this dinner discussed a campaign to oust current Najib Razak. The figure they put on this was RM2 billion.
http://www.malaysia-today.net/
But Yeoh's grievances against the current PM started way before this. In Spring 2014 his company YTL lost out on a contract to state fund 1MDB. This came after a series of losses. Shortly after, Tong and Clare Rewcastle Brown-offered to pay $2 million for stolen data relating to 1MDB. This was despite the fact that Tong did not appear to have a motive of his own to pay such a sum.
Let's start from the beginning though…
4.1 Francis Yeoh – one of Malaysia's wealthiest men
61 year old Tan Sri Francis Yeoh took over running his family business YTL Corporation Berhad in 1988 and grew it into one of the biggest conglomerates in Malaysia. YTL owns and manages regulated utilities and other infrastructural assets.
He built his business empire on the back of close relations with Malaysian administrations from the 1980s to the 2000s.
He now divides his time between London and South East Asia – residing in Chelsea as well as an island resort in Pangkor Laut, Malaysia.
4.2 Francis Yeoh built his empire through cronyism
Francis Yeoh owes his success to favourable treatment from governments that preceded Najib Razak's administration, especially from Mahathir Mohamad's government. Mahathir who turned 90 this year, was Malaysia's longest serving Prime Minister, holding the post for 22 years from 1981 to 2003. Mahathir and Yeoh are bound by a long-standing, close personal relationship. Yeoh publicly acknowledges he owes his success to favourable treatment by politicians. In an interview with Bloomberg in 2011, Yeoh revealed he had benefitted from "his friends in powerful places"
https://www.youtube.com/watch?v=67RGyacLAtw
The former PM introduced Yeoh to the management of US-based General Electric, telling them that the only way to maintain their interests in Malaysia would be to commission work from YTL. In 1993, General Electric's chairman and chief executive Jack Welch, flew to Kuala Lumpur to talk face to face with Yeoh and YTL. GE became partners with YTL on several projects.
In 1992, YTL struck a deal for two gas-fired power plants, becoming the first independent power producer (IPP) in Malaysia, despite the lack of technical experience, manpower or experience. It is an open secret that in order to make the deal more lucrative, the government at the time passed a law obliging Tenaga Nasional Berhad (the state-owned electric utility company) to buy power from YTL at a premium price.
YTL boasts about 70 per cent of its revenue as coming from outside Malaysia and its 10 million customers on three continents. But the various development deals won by Yeoh's company coincided with PM Mahathir visits to third world countries such as Zimbabwe, Papua New Guinea, Vietnam and Cambodia among others. In 1996, YTL was awarded the Hwange power plant development in Zimbabwe, after the brutal dictator Robert Mugabe, a close friend of Mahathir overruled normal tendering procedures. When Zimbabwe Electricity Supply Authority opposed the sale of the 51% stake to YTL, Mugabe sacked the entire board
4.3 Francis Yeoh's business has struggled since Najib Razak came to office – and has a clear motive to get rid of him
Najib Razak became Malaysia's Prime Minister in 2009 and began to open up key Malaysian markets, including the energy sector. Foreign ownership of independent power producers has now risen to 49 per cent and the tendering process for infrastructure development has been opened up, building a more competitive environment.
http://www.powerengineeringint.com/
This has had knock on effects for Yeoh and YTL's performance. YTL's declining grip on the energy market was highlighted in February 2014 when a tender contract to run a formerly state owned coal-fire plant –'Project 3B' was awarded to 1MDB rather than YTL – prompting the hypocritical 'crony capitalism' claim.
http://lifeofaannie.blogspot.co.uk/
http://www.themalaymailonline.com/
This changing business dynamic is reflected too in YTL's financial performance. Its annual profit growth under Najib Razak has been half the figure of 2.47 per annual profit growth under former PM Mahathir Mohamed. In the past 12 months especially YTL has had a particularly poor financial performance – with its parent company suffering a 34 per cent decline in profits between 2014 and 2015
4.4 Francis Yeoh's link to Tong Kooi Ong
Yeoh is also a close friend and associate of Tong Kooi Ong – publisher of the Edge Media Group who offered Xavier Justo $2 million for his stolen data as we have seen in previous articles.
It is common knowledge that Tong's media empire has long been sympathetic to Yeoh's businesses. Yeoh has previously used Tong's The Edge Media Group to campaign on his behalf in order to win bids.
In 2013 and 2015, the Edge campaigned in favour of Yeoh's YTL bid to take over a project involving the construction and operation of a 2,000 MW coal-fired power plant.
http://www.bursacommunity.com/runner-for-coal-plant
The Edge also campaigned against 1MDB's bid. (http://www.bursacommunity.com/faces-hiccups-in-power-assets-listing
In April 2015, after YTL lost out on a 2,400MW combined-cycle gas-turbine power plant and a 50MW solar farm to 1MDB, Tong's Malaysian Insider wrote:
"YTL Power was controversially disqualified on a technicality. /…/ The tariff will be higher for Malaysians in the future because the government will award 1MDB with more lucrative tariffs in order to create more profits for the distressed firm /…/ 1MDB won via "controversial open tender" against YTL Power's lowest tariff bid. /…/ The losers are Malaysians who are forced to bear higher electricity prices on top of the recently implemented goods and services tax." www.themalaysianinsider.com
4.5 Tong and Clare Rewcastle-Brown offer Xavier Justo $2million for stolen data to take out Najib Razak
As already been shown on OSI, Tong Kooi Ong and Clare Rewcastle-Brown offered Xavier Justo $2 million in exchange for stolen data relating to 1MDB. This meeting took place in February 2015 in the Fullerton Bay Hotel in Singapore.
It is not credible though to believe that Tong was the controlling power behind this deal. $2 million is a huge amount for a media proprietor to pay for a story from his own funds – especially given that has since denied any political motive of his own in paying for the story.
http://www.opensourceinvestigations.com/tong-bribe-rewcastle/
So was Yeoh the power behind Tong? From the events that then took place, the evidence becomes more and more overwhelming….
4.6 With no smoking gun and the public campaign failing – Yeoh attends a 'dinner of tycoons'
Earlier this year Yeoh attended a dinner with a number of other tycoons holding similar grievances against the current Malaysian Prime Minister. Attendees at the dinner included Vincent Tan, Chairman of Berjaya Group and Kamal Sadiqqi, owner of Kamkorp.
http://www.malaysia-today.net/
A campaign to oust Najib to protect their commercial interests was discussed – with a budget of RM2 billion ($467 million) put forward.
An attendee at Yeoh's dinner of tycoons even met with Clare Rewcastle-Brown. Khairuddin Abu Hassan – a former UMNO official close to Mahathir Mohamad – met with Rewcastle-Brown – the two being pictured together in London on 1 July.
http://www.malaysia-chronicle.com/
 
4.7 There are many other connections too
They are all connected to each other: the billionaire, the former PM, the media owner and the blogger. Yeoh was Mahathir's crony. Tong is very close to Yeoh. Tong's media has, on numerous occasions, reproduced material from the Sarawak Report, and Rewcastle Brown has personally written for Tong's websites.
And what's more, Tong and Mohamad Mahathir already have business ties. Mohamad Mahathir's son, Mokhzani, and Tong were both shareholders in Phileo-Allied Bank in the 1990s before it was taken over by another institution.
http://www.wsj.com/articles/SB981315748156016312
Francis Yeoh – the man with the means and the motive