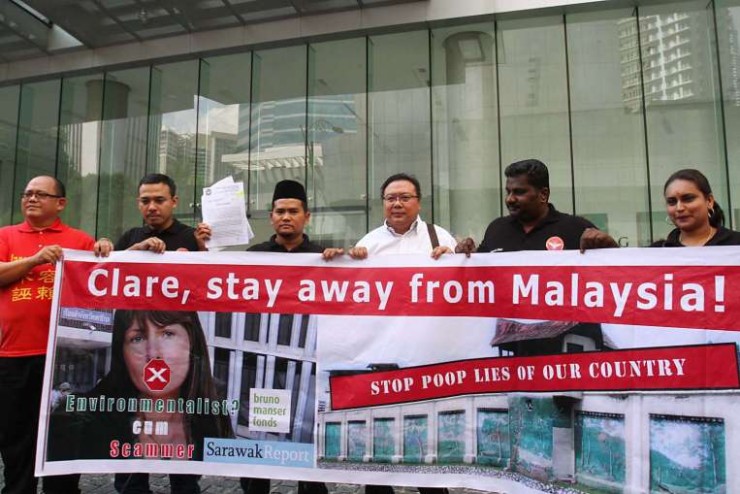 Clare Rewcastle Brown's business was rescued from the brink of insolvency as she agreed to campaign to oust the democratically-elected Prime Minister of Malaysia Najib Razak, we can exclusively reveal.
Shocking new information contained in official documents she filed at UK Companies House show that the company run and completely owned by the UK-blogger paid off tens of thousands of dollars of creditors at the same time she signed up to a plot to oust the premiere.
The shocking revelations blow apart her claim to be an independent journalist and provide definitive proof of her fully paid-up role to take down Najib, by publishing allegations proved to be false.
An OSI investigation, of publicly available sources, has already revealed how the UK-based blogger has been the public face of the plot to oust Najib Razak, a fact she has admitted. Revelations and further admissions that she offered Xavier Justo $2million for stolen data, which was edited and published on her website, have further exposed her motivations.
But now, damaging new documents reveal how she was able to fight off looming insolvency and start profiting from her role. And all this, from official UK Companies House documents, evidence from a criminal trial and her own public admissions.
8.1 Rewcastle faces threat of insolvency
Clare Rewcastle has admitted that her website – the Sarawak Report – are run through a shadowy company called Lost World Productions Limited.
Perhaps unsurprisingly for a failed journalist, who left Carlton TV in disgrace after broadcasting stories she knew to be false, she struggled to get funding and her company was indebted for years, in contrast to the success of her family members.
In just one year, she had run up a loss of almost $19,000 (£12,926). Her losses continued every year as she struggled to make her business successful. And in her worst year of trading, her losses almost doubled from £14,872 to $41,000 (£28,815). If she had had another year like this, her company would have been facing insolvency. http://www.opensourceinvestigations.com/
8.2 Miraculous recovery in run up to 2013 Malaysian elections
But her role as an attack dog – willing to print stories the mainstream, credible media were not – had been spotted. She was bailed out and started working for the opposition in the run up to the Malaysian elections in 2013. The move meant she finally stepped back from the brink of insolvency and her company returned a profit for the first time ever.
Exclusive emails show the turn around came as she teamed up with opposition leader Anwar Ibrahim, running stories on his say so and working as his 'media advisor'.
http://www.opensourceinvestigations.com/
With the money rolling in and insolvency staved off, Rewcastle ramped up the campaign for Ibrahim, running polemical pieces on her Sarawak Report blog. On one she attacked the Barisan Nasional's candidates as 'dirty'. On another occasion, she proudly told her readers: 'Anwar Ibrahim, Malaysia's former Deputy PM, may by tomorrow have completed a long and difficult road to become the country's new leader.'
http://www.sarawakreport.org/ and http://www.sarawakreport.org/
This last story proved to be as false as other stories, and again she teamed up with Ibrahim's daughter to offer to buy stolen data from Xavier Justo.
When Justo turned down that offer, she touted around for new business partners and teamed up with media baron Tong Kooi Ong to offer Justo $2million for the stolen data as she continued to plot to oust Najib – and of course, continued to make a profit.
And as before, her new paymasters demanded the same rules – only running stories on their say so. In their secret conversation, now public as evidence in a court case, Tong's business partner Ho Kay Tat clearly listed the rules for her engagement, telling her that: "she is not to write without our ok" (Ho Kay Tat, WhatsApp Conversation, 22 May 2015)
Further conversations, contained in evidence to the same court, back this up:
Tong:
"Remaining sum will be executed [to Justo] on these terms 1) nothing is to be published about how money is used to influence us n middle east goats against anwar ibrahim 2) all future stories that are based on info contained in the transaction must get our agreement" (Ho Kay Tat [Tong Kooi Ong], WhatsApp, 19 March 2015)
As confirmed by Justo's confession:
"Tong stated he didn't want to involve the Saudis or PetroSaudi which was important to me. He said that this was an internal Malaysian matter only" (Xavier Justo, Confession 26 June 2015)
With her business in the black, Rewcastle Brown even offered Tong Kooi Ong 30% of her company in order to pay Justo. While she knew the risks of being caught, secret documents show she told Xavier Justo it was 'a dodgy transaction. But I will do it.'
Her own private words, contained in evidential documents, provide the record of her motives.
https://beta.companieshouse.gov.uk/company/06578122/filing-history
Rewcastle Brown:
"I will drink some when Najib is done!' (WhatsApp, 16 June 2015)
As confirmed by Justo's confession:
"She [Clare] said she wanted to bring down the Prime Minister, Najib Razak" (Xavier Justo, Confession 29 June 2015)
With her company now in profit, some champagne was order of the day.
Here are some of the documents with Rewcastle's balance sheets:  
http://www.opensourceinvestigations.com/LWP0809
http://www.opensourceinvestigations.com/LWP10
http://www.opensourceinvestigations.com/LWP11
http://www.opensourceinvestigations.com/LWP12
http://www.opensourceinvestigations.com/LWP13
http://www.opensourceinvestigations.com/LWP14