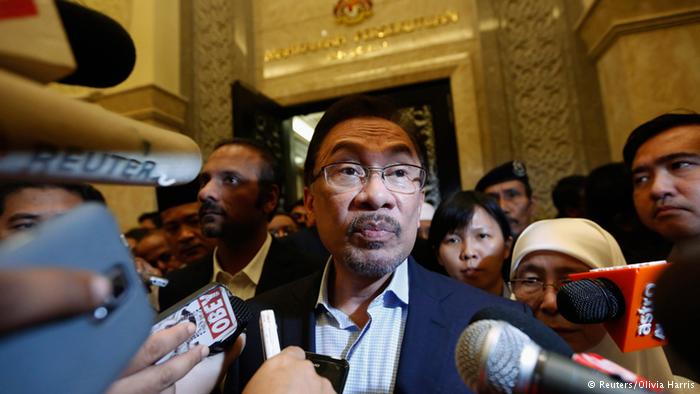 OSI has documentary evidence that Anwar Ibrahim took part in the plot to take out Najib Razak. In its investigation of the world record-breaking figure of $2million for a story, OSI obtained emails that show the close relationship between Malaysian opposition leader, Anwar Ibrahim, and British-based blogger, Clare Rewcastle Brown.
OSI also has evidence that Anwar Ibrahim was involved in the negotiation for the document stolen by the Swiss national Xavier Justo from his former employer.
6.1 Yeoh, Mahathir, Tong, Anwar and Rewcastle are all connected
OSI has already demonstrated that the billionaire (Francis Yeoh), the former PM (Mohammad Mahathir), the media owner (Tong Kooi Ong) and the blogger (Clare Rewcastle) are all connected to each other. Moreover, in the plan to oust the democratically elected Malaysian Prime Minister Najib Razak, it has been revealed that Mohamad Mahathir hosted a dinner in London attended by Francis Yeoh to plan the campaign.
Read here: Francis Yeoh and the 2 million story
Key Mahathir aide Khairuddin Abu Hassan has also confirmed to close associates that Mahathir and Yeoh teamed up with Anwar Ibrahim to oust the Prime Minister, with Mahathir meeting Anwar's aide Azmin Ali at the dinner in London to seal the deal.
Read here: KHAIRUDDIN ABU HASSAN, the man in the eye of the storm
Now we can reveal exclusive evidence of just how close Anwar Ibrahim is with the public face of the campaign, Clare Rewcastle.
Emails seen by OSI show how Clare Rewcastle and Anwar Ibrahim have a long-standing relationship, with the British-based blogger acting as Ibrahim's press aide and also asking for his permission before writing stories on her blog.
6.2 Clare Rewcastle to Anwar Ibrahim: May I run this story?
Emails seen by OSI, and published for the first time today, show that blogger Clare Rewcastle has long had a relationship with Anwar Ibrahim. They show that Rewcastle was working as a media advisor to Ibrahim, acting as his spokesperson. They also reveal how she sought his approval before running stories on her Sarawak Report blog.
In an email from 5 September 2012, Clare Rewcastle sent Anwar Ibrahim (on his Gmail account, [email protected]) a copy of her email to Rebecca English, the Royal Correspondent for the Daily Mail newspaper in London. Clare Rewcastle acts as Anwar Ibrahim's spokesperson in his effort to undermine Prince William's and his wife, Kate, visit to Malaysia in their Asia tour in September 2012. In his reply, Anwar Ibrahim calls Rewcastle his "media advisor".
Read the email here: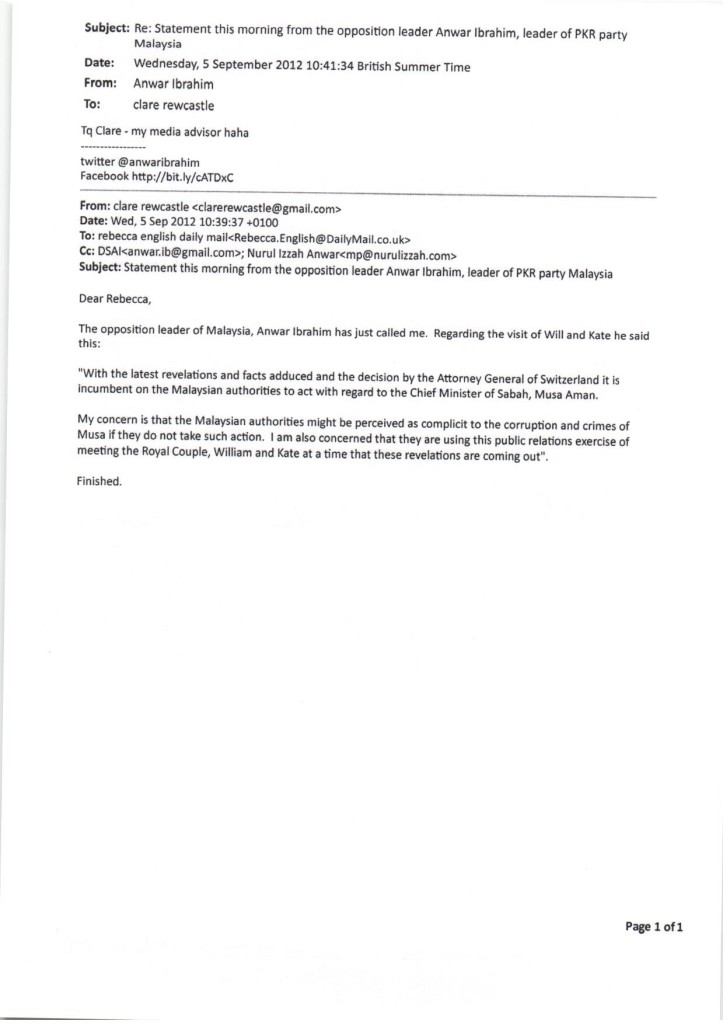 In another email on 12 December 2012, Rewcastle emails Ibrahim asking whether she should run a particular story. Anwar replies: "Please hold for now," and Rewcastle immediately comply with his instruction: "Will do the interviews and then wait."
Read the email here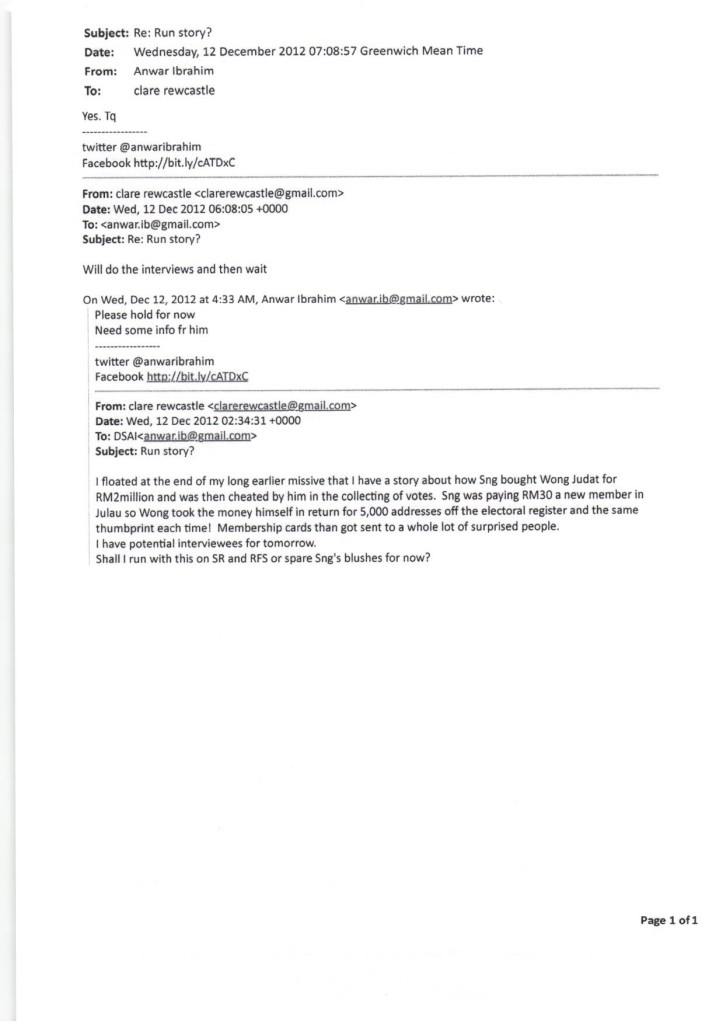 6.3 A part of the plot: Anwar's offer to buy the stolen data
As it has been shown, Rewcastle and Tong offered Xavier Justo $2 million for the stolen data as part of a plan to oust Najib Razak. They contacted Justo having been tipped off by Mahathir's associate and attendee of the dinner of tycoons, Kamal Saddiqi.
Read here: Francis Yeoh and the 2 million story
But Tong was not Rewcastle's first choice as a partner to buy the stolen data. The first potential buyer was Anwar Ibrahim's daughter, Nurul. Justo turned down the US$2 million offer because it was proposed in the form of future government contracts if the plot was successful.
Written Confession of Xavier Justo, 26 June 2015:
"Around September 2014, Clare contacted me and invited me in Bangkok. She said the daughter of Anwar Ibrahim was interested in buying the data. I declined as Nurul wanted to pay US$2 million in future government contracts when they come into power, instead of cash. I declined the offer as I saw no purpose for it."
In OSI's assessment, Anwar Ibrahim was, from the beginning, part of the plot against Najib Razak. In one of her WhatsApp conversations with Tong, Rewcastle Brown disclosed the fact that they teamed up to take out Najib Razak.
Clare Rewcastle Brown, WhatsApp, 16 June 2015
"We are setting up for one last crack before the state election… I will drink some when Najib is done… I have picked up the story through Anwar's people… I have used Dr Mahathir to get other sources of information."
The Anwar's family offer was an attempt to mislead Justo by promising him illusory "future government contracts" in exchange for the stolen data. The attempt was not successful, and Clare Rewcastle presented Justo with a new offer of $2 million. The new offer came from Tong Kooi Ong, an old ally of Anwar Ibrahim.
6.4 Anwar Ibrahim's links to Tong Kooi Ong
Justo's stolen data was then passed to Tong Kooi Ong, negotiated by Clare Rewcastle. Tong was an obvious second choice, given his close links to Anwar.
When Anwar Ibrahim was a senior UMNO minister in the 1990s, and Tong was an upcoming businessman, they were regarded as important allies.
In the late 1990s Tong was a key fundraiser for Anwar, allegedly establishing a master bank account to which Malaysian businessmen could make donations.
Read more: Former Banker's Allegations Could Hurt Anwar's Credibility
It is also the case that in the 1990s Tong hired the wife of a close associate of Anwar Ibrahim's, after the politician asked his friend for a favour.
Read more: Statutory Declaration Dato Abdul Murad Khalid
Clare Rewcastle has often said that she is just a journalist who goes wherever the story is. But, according to Justo's confession, she agreed from the beginning that her stories based on the stolen data should be proofread by Tong before publication. And, according to the emails we published today, she was asking for Anwar Ibrahim's permission before writing stories on her blog.
It looks like on this occasion Rewcastle just went wherever Anwar and Tong sent her…